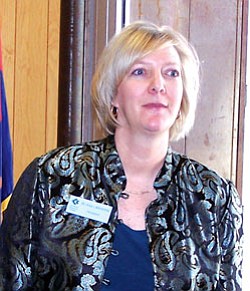 Originally Published: October 2, 2007 5:15 p.m.
FLAGSTAFF-It's official! Dr. Leah L. Bornstein is the new Coconino Community College (CCC) president. Bornstein assumed her duties in early September to replace outgoing president Thomas Jordan, who had been president of CCC for the past eight years.
Bornstein, formerly the dean and chief executive officer of Colorado Mountain College in Breckenridge, Colo. has an impressive list of accomplishments.
Among the most outstanding of these is her work with the United Arab Emerites to establish the first co-educational (male and female) school in that region.
Part of her work involved bringing together consultants from across the globe to partake in discussions that would eventually result in the opening of the Center for Excellence in Research & Teaching in Abu Dhabi.
While working for Colorado Mountain College, Bornstein was credited with leading the community of Breckenridge through the process of designing and developing the new campus through a successful $4 million capital campaign.
Bornstein is excited to take over as president of CCC, citing her 22-plus years of working in the community college environment as her inspiration. "I truly believe, wholeheartedly in the mission of the community college," she said, adding that in the 15 years CCC has been in existence, they are "doing wonderful things" for Flagstaff and the surrounding reservation communities.
She commented, "It's wonderful to be successful, but at the same time, how do we fully meet the needs of the community in a way that's ... effective?"
Part of this entails partnering with institutions such as Northern Arizona University and Diné College, she said.
Bornstein's immediate goals are to develop and implement a vision statement and three-year strategic plan. This will be done by soliciting input from faculty, staff and students of CCC as well as Flagstaff and community members from around the area.
These goals are presently being formulated in the hopes of completion in four months.
Bornstein alluded to the importance of the Native American student population at CCC, citing the CCC branch in Page.
She added that there have been informal discussions about the possibility of establishing another branch campus in Tuba City.
She stressed the importance of community involvement, stating, "I am not the type of CEO that likes to impose an agenda. The agenda needs to come from the community that we serve."
Bornstein also emphasized the need to have more "cutting edge" programs at CCC for students and that by incorporating such programs into the curriculum, it would better reflect the diversity of the community college mission. "We need to bring our ... services more fully to the greater [Coconino] County area," she said.
Val Gleave, CCC board chair stated upon Bornstein's appointment, "We are very impressed by [Bornstein's] experience and by the enthusiasm she has demonstrated ... We are confident that she can meet the new challenges that will be facing all community colleges in the years ahead."
More like this story