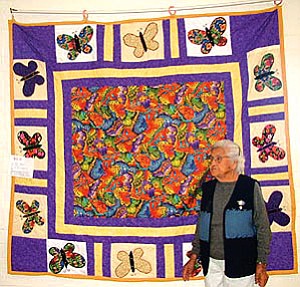 Originally Published: October 2, 2007 6:14 p.m.
BACAVI VILLAGE-The Bacavi Adult Elder Program (BEAP) will be hosting their annual quilt show, showcasing some of the most original and creative quilts that the artists have to offer. This will be the 4th annual show, and all who contribute to the show agree that every year the attendance has grown dramatically.
BEAP is a year-round program funded through Bacavi Village and designed to provide services such as educational and social activities for all adult elder residents of Bacavi Village. The quilt show is also held in conjunction with the Hopi Tuhisma Show, allowing visitors to attend both events.
This year's show opening will be held Friday, Oct. 5 and Saturday, Oct. 6, from 9 a.m. to 9 p.m., at Bacavi Village's Community Center, located off of Highway 264 West.
The quilt show draws spectators, quilt lovers and Hopi art collectors from all over the Southwest and the U.S. every year. There is always a good number of people from the local villages, and other quilters from across the reservation who come see the show and come to support the quilting tradition.
Last year's event showcased more than 30 quilts. Most of the quilters who entered submitted at least two quilts each. Some of the quilts that were entered were vintage quilts that were not for sale, but showcased the long standing history of quilting artisans from Bacavi.
The oldest qulter, Marsah Balenquah, age 97, started quilting after she had her children. She went on to develop a trademark Blue Bird Flour sack quilt design that, true to Hopi tradition, holds to the addage that "nothing is wasted"-not even a flour sack. She also has a cowboy silhouette design featuring a bowlegged cowboy complete with a kerchief and cowboy hat. Her eye for color and design is well-known and inspires others to begin quilting.
Balenquah's daughter, Karen Shupla, has also developed her own quilting trademarks and is an accomplished quilter.
Some of the quilters are between the ages of 60 and 70. They openly encourage younger generations to start quilting in the hopes that new recruits will be able to gain a lifetime skill and make quilts to showcase in the annual quilt show. The older and more experienced quilters like to share their knowledge with younger women and girls, as they say they are "getting on" in years and cannot always make quilts for their family members for such occasions as the Baby Naming Ceremonies.
A Baby Naming Ceremony is conducted to celebrate the birth of a new baby in Hopi society. The quilts are used by the paternal aunts who bring baby blankets, usually handmade, along with other items, as gifts for the newborn. All of the Bacavi quilters would like to learn new techniques and processes from quilters outside from Hopi. Although they favor simplicity, they are open to all types of quilting and sewing activities.
Most of the quilts are machine pieced, most of the quilters agree that the life of the quilt is much longer if machine sewn as opposed to the older method of hand-piecing and hand quilting. Some are machine quilted; some have a method of functional quilting called "tied quilts." Many of the quilts feature pieced work, some quilts are appliqué. Some of the quilters will have "crazy" quilts that are another example of using every scrap of fabric and not wasting what they have.
The 2006 show was a huge success and an outstanding showcase of the hard working quilters that Bacavi has in the program. When the quilt show first started it was mainly as an event for the ladies to show the quilts that were made that year. They did not anticipate that they would now be in the fourth year and that the shows are growing every year. The show is also a very monumental event, especially for what this means for Hopi in general. Hopi has many talented and gifted people on the reservation, and this quilt show is just one facet of the spirit of the Hopi sense of creativity. Prior to the first show, the elders did not realize the huge potential and impact the show would have on the art of Hopi quilting.
Quilting, as it is know on Hopi, was learned from the Mennonite missionaries that came to Bacavi and was even more encouraged when Hopi children were sent off to boarding school. There they learned basic sewing in home economics classes and brought those skills home upon their return.
Because new fabric and the funds to purchase them were not available, many of the quilts from the earlier quilting years at Bacavi were made from used clothing brought in to the village by donations and the missionaries funding the fabric purchases. Hopis have always been recyclers and innovative about making something from very little. Thus, they used everything from ballroom dresses, prom dresses, suits, dress coats and pants that were split apart for their quilt making materials.
The potential for this show is huge and it is the hope of show promoters to make it bigger every year with more entries. More entries may lead to a bigger audience. All quilters and those who love color and texture are welcome.
Sometimes, the quilters will converge into a large group and go into the local towns where they visit fabric stores to get a "quilter's fix." Many love the smell of new fabric, the colors and textures that some stores have to offer. Others talk about ideas they have for certain prints and fabrics that are being admired. It is a real bonding experience because everyone laughs and spends hours in one store.
Every quilter probably has a similar story-they all buy fabric even though they have closets and storage bins full of fabric that have yet to be used. Even so, they still buy more to add to the piles, which are usually earmarked for special projects to be completed 'one of these days,' remarked Jennifer Joseph, BEAP Coordinator.
Admission to this year's quilt show is free but donations would be greatly appreciated. There will be quilting presentations and discussions twice each day of the show. A frybread sale is also planned to raise funds for next year's quilt show. Entries are open at this time, but only to Bacavi residents of all ages and proficiencies.
Along with the quilts, other fiber arts are excepted such as clothing, traditional weaving items, crochet, knitting and aprons.
You may call (928) 734-9428 or (928) 734-9360 or e-mail bacaviquilts@yahoo.com with any questions.