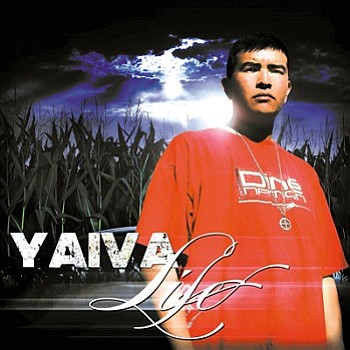 Originally Published: November 21, 2007 6:04 p.m.
FLAGSTAFF - Navajo/Hopi hip-hop artist Gabriel Yaiva has come a long way from his first CD, "Straight Heat." In his upcoming "Life," Yaiva reveals more about himself as a person than in any of his previous releases.
"It's got a couple songs on there that were really hard for me to record, such as 'Another Day,' about my gang experience and losing my life and almost taking another life," Yaiva said. "I had to relive the scene from being unconscious and coming back to the consciousness of seeing my mother crying at my bedside. My purpose in this song is to talk to the youth and give them some perspective."
This is a song of survival, but more, it's a song of compassionate empathy for the young people facing experiences he has already experienced.
"'Cuz they just don't know what you're going through, yeah. 'Cuz I know what you're going through. 'Cuz I've been there too, yeah, I've been there too."
"That particular song talks to a lot of youth on the rez' because there are a lot of youth I know going through the same situation today-and will be going through again tomorrow," Yaiva said. "I know that as a youth myself, when people would come to me and talk about not doing this or not doing that, it really infuriated me. A lot of youth, if you tell them not to do something, they do it anyway."
It is this personal knowledge of having been under the knife himself that makes his work with his Peace and Balance Project so powerful.
"Peace and Balance is education and healing through hip-hop," Yaiva explained. "I came up with the name from being both Navajo and Hopi-Hopi philosophy is based on peace, and Navajo philosophy is based on balance, so it was a fitting name. Both philosophies speak of how to relate to mankind, and how to have relations with human beings and Mother Earth. It is very important for us to teach this to the youth-especially those involved in gangs and drugs."
Yaiva and his friends do not offer hollow platitudes-not through the Peace and Balance Project, nor through his music.
"What we say is, 'we know you are going to do this.' It's a part of growing up, but some parts of it, like methamphetamines, are no good for anybody," Yaiva explained. "I use the same approach my mom used with me. She is such a strong and beautiful person, and I acknowledge her for who I am today.
"My sisters ask my mom what she did with me," Yaiva said. "She tells them, 'I just talked to him like an adult; I just talked to him all of the time.' That's the approach we use with the youth-we don't talk at them, we talk with them.
"Communication is a very powerful tool, and can fix almost any kind of conflict as long as you can sit down and talk it out, that is the best solution to many of the problems out there," Yaiva said.
Another great song is called "Call My Name," and is written for his wife.
"This is kind of like an R and B song, based on the experience of meeting the mother of my children," Yaiva said. "It's a real balancing act to be a father, husband and a hip-hop artist. I do so many different things-I'm part owner in a couple of businesses, I run the Peace and Balance Program, and I have my music.
"Another song, 'Make up or Break Up,' talks about relationship struggles that everyone knows, that I've gone through-everyone goes through them," Yaiva continued. "That was a pretty hard song to write."
Another foremost song is "Indian Summer."
"This is a fun, cruising, summer song," Yaiva laughed. "We do it a lot, and it's a lot of fun, talking about cruising and hanging out, doing what Indians do. There's one verse that's really funny-this guy meets this girl..."
"We be cruisin' on a beautiful Indian Summer Day, so come with me, come come with me....Cause you got me buggin, But already too much talking', We really should be snaggin' but first things first. Before the kissin' and the huggin, tell me what your clans are, Cuz I damned sure hope you ain't my cousin."
"I like doing that song. We always finish our performance with that song. This will be popular on Indian stations, while 'Call My Name' will be heard more on mainstream stations," Yaiva said.
Collaboration is important to Yaiva-and he is working with the traditional group, Todi Neesh Zhee Singers who will sing the chorus to the song, "Make Up or Break Up." Yaiva is also looking for an artist who can sing in Hopi (yes, he admitted, this is an invitation).
Yaiva said that the struggles within Native communities are pretty similar, and that people have to find a unified approach to facing the problems-something possible with today's technology.
"I used to talk to these non-Natives in New Mexico where I lived and we'd be talking junk-and we would always get onto the race card," Yaiva said. "They would be like, 'if there were so many of you guys, why'd you get colonized?' What people fail to realize is that back then there were so many dialogues.
"Today, Natives are forced to speak one language, and that's English, and in this day and age with places like Myspace and the Internet, instant messengers, there's no reason we can't all stay in touch," Yaiva continued. "We have tools now. We have no excuse. A hundred years from now, I don't want to hear my grandchildren say that we had all of these tools, why didn't we rise up?"
Yaiva said that this album was difficult-but fun.
"There is old school hip hop, straight talking and junk," Yaiva said. "This album is a real mix of a lot of different styles. Music is powerful-being able to communicate with people is powerful, and I'm thankful for the blessing the Creator has given me."
Tilting his head, Yaiva considered his words.
"Sometimes it is a blessing and sometimes it is a curse. People who are blessed with speaking through music, our lives are never normal. We can't make that voice in our heads shut up. Sometimes we touch other peoples' lives because of it, and sometimes our lives are completely out of whack because of these things that go on in our heads.
"I do not live an ordinary life by any means. Nor do I want to. I cannot see myself working that 8 to 5 office job," Yaiva said. "I tell the youth that the way I live my life is definitely not in a box, and that they should create their own reality out of the box.
This was how I always envisioned my life, and what made me able to achieve it was that I followed my passion-and that is music.
"We definitely plan to tour the album on different reservations and schools," Yaiva said. "Right now tentatively there is no definite release date, just know the new Yaiva album 'Live' is coming."
The album will feature DJ Kiss, JayNez, DJ Vlad (MTV and Source/Vibe Magazine Mixed Tape DJ of the Year for 2006), DJ Willie Mays, DJ He Took (Yupit').
Fans can download some of the music on Yaiva's www.myspace.com/4went, or www.Yaiva.net.
"We are giving thanks and appreciation to our fans and supporters; if any want to e-mail me at Yaiva101@gmail.com or send us a message on MySpace saying that they want to review the album, we will provide a link where they can review it, list their top 10 favorites, and we will include those on the release," Yaiva said.
"A friend of mine, 4Seen, told me a few years back, 'Yaiva this is cool-you are doing good work, but your best is yet to come.' I really liked what I was doing back then, but now, I think some of that 'best to come' is on this CD."
More like this story