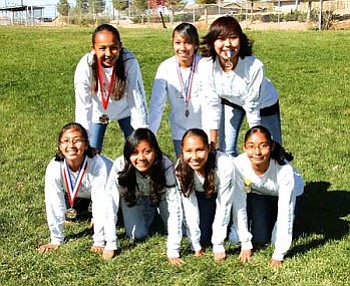 Originally Published: November 21, 2007 9:38 a.m.
TUBA CITY-TC High Girls cross country head coach, Richard Dawavendewa has high hopes for his girl's cross country team in the future.
Knowing that they had the capability to be in the Top Four at state, is just what fuels these hopes. To achieve this rank, TC High girls cross country focused on Winslow's team, which ranked second going into the state 3A North competition.
Tatiyanah Johnson was asked to focus on Winslow's top runners and the rest of his young cross country team was instruced to focus on the third and fourth runners.
"It worked," Dawavendewa said. Even so, TC High and Winslow underestimated Blue Ridge and they snuck up on both schools.
At mid-season, the TC High girls ran strong races, placing second at both the Page Invitational and the Coconino Invitational.
"My girls have their greatest strength in their unity, but with our recent intersession break, it did affect their training. We had to catch up to two weeks of losing that unity and obviously it affected our final competition," Dawavendewa said.
Overall, Dawavendewa felt that young Caitlin Williams had the most improvement this past year and over the past three years.
"The other girls are more naturally gifted runners, but Caitlin has to work at it to get to where she is. That is pretty impressive, her hard work ethic and discipline really attributed to her ending up as the number two runner this summer. All of my girls ran throughout the summer and they brought that endurance to this season. I am planning on a winning season next year, if all my runners return. The fact that Tuba City is around 5,000 feet in elevation results in faster running times in lower competitive altitudes like the state competition," he pointed out.
The 3A State Cross Country Championships on Nov. 3 placed Tuba City High Lady Warriors in fourth place overall.
In addition, Tatiyanah Johnson, won 13th overall winning a medal in 3A All State. Team honors went to Caitlin William, Jennifer Williams, Shelbi Little, Nicolette Hatathlie and Ellen Smiley.
For more information about the Tuba City High cross country program, call the TC District Office of Public Relations at (928) 283-1185.