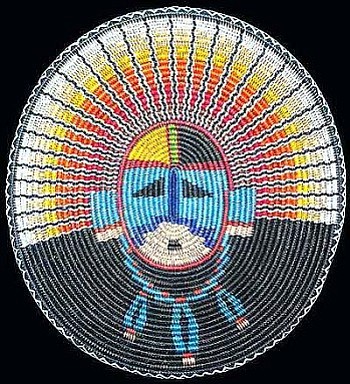 Originally Published: November 21, 2007 10:55 a.m.
FLAGSTAFF - Two Southwestern trading companies from Santa Fe, N.M. and Bluff, Utah will spice up the holidays at the Museum of Northern Arizona's (MNA) Museum Shop during its yearly Holiday Sale. For this holiday season, what could be more special than a gift from the Colorado Plateau?
From 10 a.m. to 4 p.m. on Saturday, Dec. 1, staff from Silver Sun on Santa Fe's Canyon Road will present Arizona turquoise. Staff experts will share information about Bisbee, Morenci and Kingman turquoise mines. Visitors will learn how Arizona sky stones are mined and processed into beautiful Native handmade jewelry by some of the best artisans in the Southwest.
From 10 a.m. to 4 p.m. Saturday, Dec. 8 Steve and Georgiana Simpson from Twin Rocks Trading in Bluff will present "At the Crossroads of Diné Tradition and Innovation," bringing with them a grand showcase of traditional and contemporary Navajo rugs, baskets and folk art. Georgiana Kennedy Simpson, author of "Navajo Ceremonial Baskets," will share her wealth of knowledge from a life of trading in Navajo arts. Steve Simpson will discuss Twin Rock Modern weavings, a new contemporary regional rug style from outstanding weavers surrounding Bluff.
The museum's holiday sale with discounts on selected items starts Nov. 23, the day after Thanksgiving and runs through Friday, Jan. 11. Selected items in the museum shop include kachinas, pottery, gold and gold-accented jewelry, concho belts, bolos and buckles. Bookstore selected items include T-shirts, toys and posters-all perfect for gift giving. Gift baskets for personal and corporate giving are also now available. MNA can deliver in Flagstaff or mail a special assortment of chosen items.
MNA's Museum Shop specializes in museum-quality Native fine arts and gifts from the Colorado Plateau. Sale of these authentic items from regional artisans supports both the Museum's operational budget and Native artists and their families. Because MNA's shops are not-for-profit, sales tax is not charged, which can be a significant savings when buying more expensive collectibles. Museum admission fee is waived for shoppers going directly to the museum shop and bookstore.
MNA is located three miles north of historic downtown Flagstaff on Highway 180. It is open daily from 9 a.m. to 5 p.m., except Thanksgiving, Christmas and New Year's Day. For more information, call (928) 774-5213 or visit www.musnaz.org.