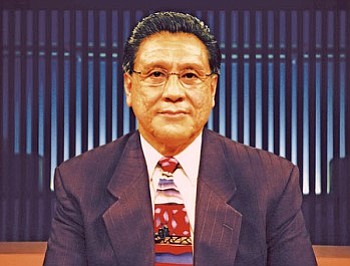 Originally Published: November 21, 2007 10:09 a.m.
The future of renewable energy sources. The challenges and opportunities facing young people. The issues Arizona's Native American communities are confronting are not unlike those for all Arizonans-and they will clearly have implications for the entire state. In "Native Visions II" hosted by Ivan Makil, former president of the Salt River Pima Maricopa Indian Community, policy makers, community leaders and government officials come together to address the critical questions.
The special one-hour special will air at 4 p.m., Sunday, Nov. 25 on PBS KAET 8. The show examines the use of renewable energy sources in Indian Country and the outlook for American Indian youth throughout America.
Featured tribal leaders, members of Congress and panelists include: Ernie Stevens, Chairman, national Indian Gaming Association; Wes Studi, actor/director/author; Tom Daschle, former South Dakota senator; Charles Colombe, former Rosebud Sioux Tribe President; Adam Beach, actor/producer; Irene Bedard, actor/director/musician; Ben Nighthorse, former Colorado senator; Daryll Secki, Red Lake Chippewa Nation treasurer; and Dan Lewis, Bank of America senior vice president and Boys and Girls Club of America Board member.