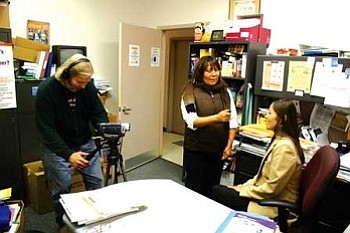 Originally Published: November 21, 2007 10:07 a.m.
FLAGSTAFF-In its second annual presentation, Flag News at Noon will feature an entire show devoted entirely to Native American News from Northern Arizona. Entitled the "3rd Friday in November Show," the line up will include Native Americans for Community Action diabetes health coordinator Amanda Morris, the comedy duo James and Ernie, and "Four Generations at Wupatki" in which Jamescita Peshlakai, her daughters, aunt, mother and grandmother will be celebrated.
In Morris' segment the variety of opportunities available at NACA will be discussed.
"We offer healthy cooking classes, educate the community about obesity and healthy eating, give health screenings and have a variety of other programs that we use to try to lure people into the clinic," Morris said.
Morris' programs concentrate not only on healthy eating, but exercise.
"We want to get our Native people moving, even if it means walking around the shopping plaza to learn how to raise your heart rate in a healthy way," she said.
During the news segment, Morris will discuss the new Nike 7 shoe designed specifically for Native peoples and its availability to NACA patients in 2008.
Be sure to catch the full show available Friday at www.flgnews.com or on Northern Arizona University's cable station 59 at 7:30 p.m., Friday, Sunday, Monday and Wednesday.