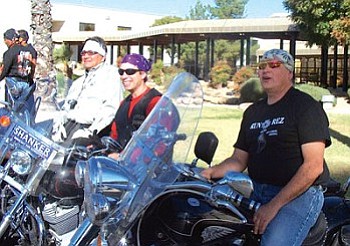 Originally Published: November 13, 2007 5:58 p.m.
FLAGSTAFF - Recently, Howard Shanker, Democratic Congressional candidate for Arizona Congressional District 1, rode his Harley to the San Carlos Apache Reservation to join hundreds of others in the "Run to the Rez IV - San Carlos Apache Veteran's Memorial Run." The run is an annual motorcycle ride in honor of American veterans.
At the run, Shanker met with Ben Shelley, Vice President of the Navajo Nation, and a number of Navajo Council delegates-all of whom had their motorcycles.
According to Shanker, "This really was not a campaign stop for me, just an opportunity to ride with some of my friends and to honor our veterans in the process."
Shanker concluded, "Honoring our vets is something that shouldn't just be reserved for Veteran's Day. It is important to recognize and remember the sacrifices our veterans have made for us on an ongoing basis."
The ride began at the Apache Gold Casino and took the riders through the San Carlos Reservation.
To learn more about Howard Shanker and his campaign, go to www.Shanker2008.com. Campaign news is also available at www.myspace.com/HowardShanker.