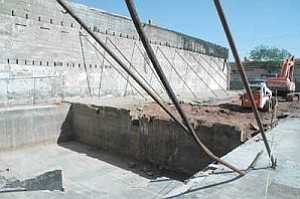 Originally Published: May 23, 2007 4 a.m.
As the Rasco building clean-up hit a major asbestos snag, the Arizona Department of Environmental Quality stepped in and pulled out $103,000 more in funding in record time to see the project through.
As for saving the wall, it has become at least a $314,000 project. ADEQ initially gave the city of Winslow $96,000 for the clean-up, but since the contractors began, more asbestos was discovered and ADEQ further ordered that the entire concrete foundation be removed as asbestos contaminated waste.
C & W Sons, Inc., contractor working on the site determined that the only safe and practical method for compliance with ADEQ would be to collapse the wall and dispose of it.
ADEQ representative Mike Capalby, spoke with Council recently and said that ADEQ has a spending cap of $200,000 for Brownfield projects and that this additional $103,000 would be all they could give Winslow.
"Any additional funding would require federal involvement," Capalby said.
He added that the Environmental Protection Agency is being asked to help with additional funding, but the City has not heard from the EPA yet. This federal agency is being asked to help pay on the $114,000 left in clean-up costs.
"I have never heard of a government agency turning around on a project in such a quick time," said Mayor Allan Affeldt. "This is almost unheard of and we appreciate ADEQ's efforts greatly."
On City Council's end, they made their valiant effort to save the wall and authorized payment of up to 15-percent more than originally contracted cost to be used to save it if possible.
City Planner Paul Ferris said that the change in plans reduced the clean-up cost from $218,000 down to $199,000, while the wall stabilization increase from $40,000 to $80,000.
Ferris said he has yet to hear if EPA will provide any additional funding and that ADEQ has not yet sent a second check to pay for the clean-up.
If and when all is said and done on this site, Council has made plans for its future.
The planning for Renaissance Phase II has begun with the Council decision to direct the contracted architect to incorporate the Rasco site by making it a performance plaza. Council also agreed to try and save the eastern wall, which would divide the performance plaza from the Standin' on the Corner in an effort to save the mural.
The City previously is paying $500,000 for David Evans and Associates to design the Second and Third Street upgrade that is based on the design created by them in 2004.
Other changes Council approved was to: 1. Xeriscape around the performance plaza. 2. Put a new parking lot where the Chamber of Commerce Visitors Center is. 3. Redirect funds for parking plans for along Williamson closer to Kinsley.
Council appointed a committee to work with the architect to come up with a design for the performance plaza.