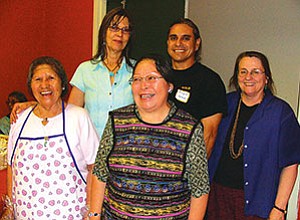 Originally Published: May 22, 2007 2:11 p.m.
Friday, April 27 kicked off a three-day summit designed to bring together voices from numerous grassroots organizations and to showcase their work to the communities on the Colorado Plateau.
Phyllis Hogan, emcee and co-sponsor of the summit, named social and environmental justice as two of the most important issues in the region.
"I am happy to welcome Drs. Enrique Salmón and Gary Nabhan, who both demonstrate shining love for the people and cultures of the Colorado Plateau," Hogan said. "They are among the most hard working, passionate people I know."
Salmón, a member of the Raramuri people of northern Mexico, holds a doctorate in anthropology from Arizona State University. His dissertation is entitled "Sharing Breath with Our Relatives, Raramuri Plant Knowledge, Lexicon and Cognition." Salmón served as a Scholar in Residence at the Heard Museum and is on the Board of Directors of the Society of Ethnobotany.
Salmón's recent studies have led him to seriously consider the connections between climate change and Indigenous traditional foodways and told those in attendance that the summit was so important for the future of the Colorado Plateau. His own work on the plateau led him to one of his current projects-telling that story in an unfinished book he has entitled "Eating the Landscape," which he shared."'There's nothing out there,' she said.'" Thus began a chapter describing Salmón's journey out into the Navajo reservation as part of an ethnobotany field school adventure with non-Indian students. The words were those of a young woman who wondered out loud to Salmón how anyone could survive "out there."
"From our vantage point, the land seems desolate," Salmón continued. "In reality, [however,] there are incredibly resilient Native farmers, herbalists, non-Native activists, and dedicated individuals who call this place home."
Days later, when it was time to return home, his students had learned that there was indeed food in the desert. But the truth is, even the Indigenous people of the region were losing not only the knowledge of wild foods, but of gardening.
There are reasons that Indigenous farms have been disappearing, Salmón said. "There is a lack of up-to-date information that places the consumer in a [state] of ignorance as to what fast food is doing to them," Salmón said.
He looks to the next generation of youth and farmers who have already begun to revitalize gardening on the Colorado Plateau.
Salmón expressed the irony he felt when he heard that the Santa Fe area had recently experienced two feet of snow, something he attributes to the climatic destabilization caused by global warming.
"I read about the growing crisis-people could not find eggs in the stores," Salmón said. "This storm challenged Santa Fe's ability to get eggs-and our current agricultural system is not prepared for the shifts in the environment. Climatic destabilization will challenge human ability to raise food in the strictest situations. The future connects to the past through elders, who keep alive the stories recalled in every kernel of blue corn, and each neighborhood plot that brings diversity to the doorsteps of displaced Native people."
Dr. Gary Nabhan is the author of many books, including "The Desert Smells Like Rain: A Naturalist in Papago Indian Country," and "Coming Home to Eat: The Sensual Pleasures and Global Politics of Local Foods." He also serves as the first director of the Center for Sustainable Environments at NAU, though he will soon be returning to Tucson where he will once again be close to the Pima and Tohono O'odham people where he did his original work-co-founding Native Seeds/SEARCH, and initiating the Traditional Native American Farmers' Association.
"Listening to Enrique, I realized what a wonderful moment we live in despite the dark clouds and struggles we face," Nabhan said. "Here, there are still so many elements of the linguistic groups that have been ethnically cleansed off the rest of the continent."
Nabhan noted that when he first arrived in the region decades ago, he doubted that an appeals court would have recognized the sovereignty and dignity of Native tribes such as in the recent artificial snowmaking case.
"Within the last five years, here we have seen activists in this community play major roles in saving the [San Francisco] Peaks, stopping the largest mining company in the world from sucking an aquifer dry, the Zuni [Salt] Lake issue-we have seen precedence built because of an incredible coalition of people that will help other Indigenous people practice their own religion and ties to this land. Within the last five years we've seen a local food system basically dead in northern Arizona. Less than five percent of the food economy of Navajo, Apache and Coconino County was local food eaten by local people. We are sending food out at a loss of wealth...then allowing big corporations to sell back to us that same [degraded] food."
That too has changed, Nabhan continued, pointing out the incredible growth of farming in the region, including community gardens both on and off the reservation-something he referred to as "edible landscapes."
He also praised five local restaurants for using local foods in their businesses-including Winslow's La Posada, Flagstaff's New Jersey Pizza Company, and Main Street Grill.
Nabhan continued, "Thirty years ago, there were two not-for-profits in Flagstaff-the Grand Canyon Trust and Phyllis's establishment. Now we have the Sierra Club, Native Movement, the Black Mesa Coalition-I could keep on naming organizations. I believe that Flagstaff has more not-for-profits per capita than any town its size."
"When the decision on the Peaks was released, Flagstaff's Chamber of Commerce and Economic Council said that this decision would be an economic disaster for Flagstaff, because we won't get the ski tourism. What if we said to Flagstaff businesses, 'Okay, now the Navajo and Hopi folks from the reservation are going to do their shopping with independent businesses that care about the Peaks.' What if we use the services of other non-profit or like-minded businesses so that the money cycle multiplies in our community to generate environmental justice, to ensure that all cultures are treated with dignity? Let's vote with our pocketbooks."