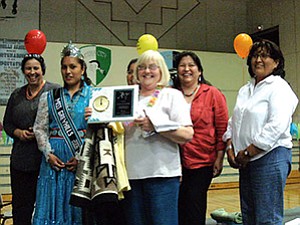 Originally Published: May 22, 2007 4:37 p.m.
Judith Littlefox has served Greyhills Academy High School in a number of capacities. She has been a reading/language arts teacher, the Dean of Humanities, directed Title I and Federal Projects, served as our school principal and functioned as a mentor to numerous new teachers.
Littlefox was instrumental in starting Greyhills Academy High School and has worked many long days and hours keeping the school running and in compliance. Littlefox is known for working on reports, developing and writing grants and her commitment to the school and community. These assets will always be admired and remembered by her friends and colleagues.
Alice Dunford has taught World History/Geography for Greyhills Academy High School for nineteen years. She served as the department dean and chaired several committees. Dunford is best known for her gentle spirit, avid traveling, honesty and integrity and wonderful singing voice.
Dunford always worked hard to make World History come alive for her students by sharing with them her travels from around the world. To her colleagues, she is known best at Greyhills as the community confidante. When shoulder to cry on or a place to was needed, everyone knew: "just let go, Alice always seems to be there." The staff and students of Greyhills will surely miss both Littlefox and Dunford.
More like this story