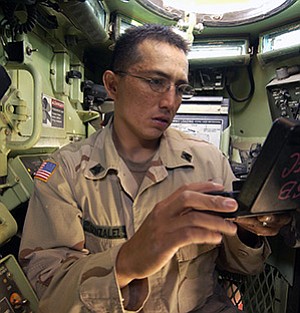 Originally Published: May 22, 2007 1:35 p.m.
LEUPP-The Curtis Huskon American Legion Post 112 and Leupp Chapter officials received word last week that Birdsprings resident and Leupp Schools, Inc. graduate Sergeant Christopher "Gonzo" Gonzales lost his life in Iraq. The word also reached Native American veteran bikers who were already on their way to the 20th annual Rolling Thunder demonstration scheduled for May 27 in Washington D.C.
Though there are detractors who claim that the Rolling Thunder demonstration is little more than a gigantic biker party, the men and women who make up the crowd actually carry a larger message. A visit to the group's website makes this clear. They demand respect and remembrance for those who have given their lives for the U.S., those who are missing in action, and those who have served and returned home.
The local group, comprised mostly of Native veterans including Navajo Nation Vice President Ben Shelly, had already left Window Rock. Upon learning of Gonzales' passing, the group returned to the reservation and to Leupp to honor Gonzales' family.
According to Vice President Shelly, Sgt. Gonzales passed away on Monday, May 14 at 10:30 a.m. Because his wife, Tonita (nee Abeyta) and son Brennen are still in Georgia, Gonzales' family is awaiting their return before releasing formal statements to the press.
The memorial, hosted by Post 112, Leupp's Mustang store and the Leupp Chapter was attended by Gonzales' mother, Judy Nez, grandparents Jules and Betty Nez and other family members. Melvin Nez of Post 112 served as emcee.
Shelly, who rode into Leupp at the head of the group, called Gonzales' loss a great sacrifice. "On behalf of the president...and as a Nation, we are very saddened by the loss of this young man and all young people who have given their lives for this country and the Navajo Nation," Shelly said after leaving the podium. "I hope we see all our young men come home soon."
He added, "The Navajo Nation has always responded to the needs of the United States military in times of war. Diné youth have gone to war-the United States is their home, but they are also doing it for the Navajo Nation. They are willing to defend their home."
Shelly also pointed out that many Navajo veterans live in poverty, without running water or electricity. "This young man has sacrificed his life for the Navajo Nation and the United States. We have young veterans coming back to the United States from Iraq, and it is my wish and hope that the United States Government would be more responsive. They will need funding for homes and schooling in order to have a better life. We don't see that here on the Nation."
"We are asking the U.S. government to be more responsive to the needs of the veterans here-that's all we ask, that they get better treatment," Shelly said. "The Navajo people have done so much for their country. They have used their language to save lives by shortening World War II-what more can one people do to let the United States government know that they have needs too?"
Several people in the crowd, including teachers and bus drivers remembered Gonzales and his wife from their school days. They expressed their shock and sadness that the 25 year old had been lost.
"This was his third tour of duty in Iraq," one woman said. "I heard that he reenlisted to go back. He was to be coming home soon."
Members of the Rolling Thunder group expressed their condolences to the grieving mother. Emma Jean Willie, a Gold Star Mother and code talker George Willie were also on hand to offer their respects. Willie lost a son in the Vietnam War.
This year marks the 20th annual Rolling Thunder ride to Washington D.C. Veteran bikers from all directions travel from all parts of the country. As the groups come together along the highways and interstates of the nation, the group swells into the thousands before bearing down on the nation's capitol on Memorial Day weekend.
This year's event will begin with a candlelight vigil at 9 p.m. on May 25, and will continue throughout the weekend.