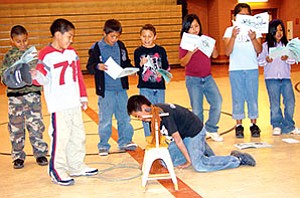 Originally Published: May 22, 2007 2:23 p.m.
CAMERON-Each spring, Dzil Libei Elementary principal Lorna Lewis and her teaching staff present a formal day-long parent information work session, or "Parent Institute" which allows parents, grandparents community members and interested parties of students who attend the Cameron-based school to come and learn new methods and considerations for enriched education.
Dzil Libei uses the Parent Institute as an outreach tool to develop knowledge that will lead to a better understanding of how to effectively work with parents for the benefit of all children.
The most recent Parent Institute on May 9 featured several new topic areas for its participants. Following a continental breakfast, Principal Lewis went immediately into the first topic area called "Reading First: Progress Summary for Year 1," with Saila Clark, Reading First coach at Dzil Libei. A follow-up discussion activity about "Ways to Increase Student Enrollment" was facilitated by Principal Lewis.
Afterwards, a short break followed with a drawing for door prizes preceded a short session by Bernice Tunney of Wells Fargo Bank in Flagstaff entitled, "Financial Literacy for Parents."
Just before a traditional stew and fry bread lunch hosted by the school's cafeteria program, attendees were treated to a session in "Navajo Nation Growing in Beauty Program" with special invited presenters from Window Rock along with Marci Jackson and Lucy Nez from Tuba City. Kristin DeVore from Northern Arizona University (NAU) was also on hand to help with the presentation format.
Entertainment during the lunch hour was presented by the Dzil Libei third grade Navajo Language and Cultural Class along with lone sixth grader, Shawna Tsinnie.
The final session was presented by Rosemary Silversmith of the Navajo Nation Early Intervention Program in Window Rock entitled, "Native Perspective of Early Brain Development" which featured a Powerpoint presentation along with a group discussion on ways parents and grandparents can enrich their young children/students at home by engaging them in healthy learning and lifestyles.
Principal Lewis stated that sometimes the turnout is less than anticipated, but that Dzil Libei realizes that the parents who do attend are our most important. "If only 10 percent of parents are there, then Dzil Libei makes sure those parents feel special so that they will not only [want to] return, but will spread the positive word to others. After all, they are the best [hope] that the students have," she said.
For more information about being able to participate in the Dzil Libei Parent Institute, please contact the Dzil Libei School in Cameron at 928-283-1080 or call the TCUSD Public Relations Office at 928-283-1185.