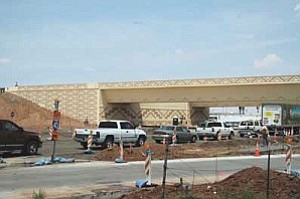 Originally Published: May 16, 2007 11:47 a.m.
The Winslow City Council Boles quorum writhed away from the spotlight last week when an effort was made to name and dedicate the new North Park/Interstate-40 Interchange to be called the "James L. Boles Interchange."
Others on Council disagreed to Councilman Harold Soehner's long passionate speech about all the things he believes Boles has done for Winslow as reason to honor him with the naming of a freeway bridge in his namesake.
Councilwoman Judy Howell said she received a letter from an upset citizen that did not like the idea of naming the bridge for Boles. Howell suggested ‹ as the letter requested ­ that if the bridge is named for anything it should be for slain Navajo County Sheriff's Deputy Bob Varner, who was shot in the line-of-duty on New Year's Day 1989.
City of Winslow Attorney Dale Patton said that this recommendation which he soon drafted a resolution for, to name the freeway bridge after Boles, came from a Navajo County supervisor and administrator.
Soehner took the opportunity to list what he thought was Boles' outstanding contribution to Winslow, not just with the Winslow Unified school district but to representing Winslow.
"Governor Napolitano is very aware of what Boles did for Winslow," Soehner said, adding that he spent fulltime working with many government agencies and representatives.
"He worked with these people no matter who they were or where they were from or what walk of life they came from," Soehner said of the former Winslow teacher and high school principal.
Soehner continued to decorate Boles' image by giving him credit for Brigham City, Renaissance on 66 and the First Street Pathway.
"It is also my understanding that there were three grants for La Posada that he had a hand in getting," Soehner said.
Howell said that she has heard Winslow residents express their desire to see the freeway bridge named something else entirely, so she recommended the decision be held for a meeting in early June to give Winslow residents time to give their input. Councilwoman Sue Bumpus agreed because she said to have heard similar citizen comments.
"I do not particularly approve of naming public works projects after people." said Winslow Mayor Allan Affeldt.
He suggested that this go before the public and that Council may decide after giving the public time to respond.
"I am not opposed to naming it after Boles, but I think I need some more time to think about it," said Councilman Robin Boyd.
Soehner's motion to name the bridge after Boles was made and Lugo seconded it, but it failed as Boyd voted along with Affeldt, Howell, and Bumpus to not to immediately name the freeway interchange after Boles until they get more input from the public. Soehner, Lugo and Councilman Peter Cake voted to name the I-40 interchange the James L. Boles Interchange without further public input.
Howell motioned that they hold the topic for decision until early June to allow more time for public response, but Soehner, Lugo, Cake and Boyd voted no ­ Howell, Bumpus and Affeldt voted yes. Howell's motion failed then Boyd motioned to hold the meeting at the next City Council meeting. Soehner, Lugo, Cake and Boyd voted yes and Howell, Bumpus and Affeldt voted no. Boyd's motion carried and they will discuss and decide on this issue at the May 22 meeting. The City of Winslow Web site is now accepting comments and ideas from area residents. Comments and ideas on this may be taken to the Winslow Mail office as well, though publication of the results will be after Council makes their decision since it was voted to be two weeks earlier upon Soehner's request that they need a name as soon as possible for the opening celebration after August.
It is not known what other ideas for names are out there. Perhaps the Diamond Joe Johnson Interchange or Tamarisk Tunnel? As for the proposal to name the spot after Bob Varner, here is some history.
Winslow Mail archives from Jan. 4, 1989, reports that Varner pulled over a bronze BMW on a routine traffic violation on I-40 near the interchange. The 1987 BMW was stolen from Stockton, Calif. and one of the men inside, Douglas Savory, 45, was wanted for stealing guns from a National Guard Armory in California.
When Varner pulled over the BMW, a witness told of how the Savory jumped out and shot over 20 rounds into Varner's patrol car. Varner was not able to get out of the car before he slumped over and was later transferred to Phoenix where he died. Of the two men Varner pulled over, they initially escaped, but Savory later killed himself and the other was taken in custody.
"Bob died doing what he loved to do ­ serve and protect the public," wrote Winslow resident Ellie Merritt in her letter to City Council. "Please give this some serious thought. There is already a memorial on the eastbound onramp, so it would be very appropriate to name the interchange after him."
Out in the Arizona Department of Transportation yard in west Winslow, a stone monument to Varner, sits by an equipment storage shed. ADOT is holding onto the monument until construction is finished on the North Park Interchange; whereby, they said it would be put back near the location where Varner was gunned down.
If you would like let City Council know what you think about the naming of the overpass, you can respond to our Reader's Survey on page 4 or reply to the City of Winslow website.