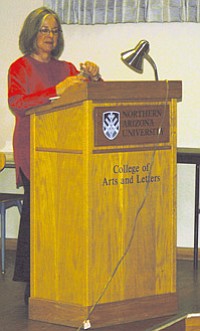 Originally Published: May 15, 2007 8:14 p.m.
FLAGSTAFF-The McAllister Chair Search Committee at Northern Arizona University recently narrowed its search to three candidates to fill the lead position in its Program in Community, Culture and Environment. This program partners the arts at NAU with regional communities and encourages multidisciplinary learning and collaboration between academia and citizens outside the university setting.
The final three candidates include Dr. Bron Taylor, Linda Hogan and Dr. Kathleen Dean Moore.
As part of the selection process, each individual was invited to present his or her work and potential for promise if he or she is selected for the post.
On May 7, Hogan visited the university and discussed several topics including the connection of landscape to consciousness, and the use of language and story to connect disciplines such as art with science.
Hogan is a Chickasaw poet, novelist, essayist, playwright, and activist, and is widely considered to be one of the most influential and provocative Native American figures in the contemporary American literary landscape. Her concentration is on environmental (she has acted as a consultant in bringing together Native tribal representatives and environmental campaigners) and feminist themes, particularly allying them to her Native ancestry.
All of her work, whether fiction or non-fiction, displays a holistic understanding of the world. She is the recipient of a National Endowment for the Arts grant in fiction, a Guggenheim for fiction, and a Lannan Award in 1994. She has been recognized as a finalist for a Pulitzer Prize for her work "Mean Spirit," and for a National Book Critics Circle award for her "Book of Medicines" and has been honored with the Lifetime Achievement Award, Native Writers' Circle of the Americas. In 2002, Hogan received the Writer of the Year Award in Creative Prose from the Wordcraft Circle of Native Writers and Storytellers.
She has held teaching positions at the University of Minnesota, the University of Colorado-Boulder, and at Trinity College in Dublin.
During her discussion, Hogan instilled the notion of human consciousness as intimately intertwined with the consciousness of the elements, other beings, the Earth and spirit world(s). She then explained how writing and the use of story enhance and embody this connection.
"I use language to bring out everything from science to spirituality to knowledge. The story breaks us out of our heads...and is useful in understanding key relationships between humans and other beings in the world," Hogan said.
Hogan explained that in order to maintain and nurture her personal tie within this circle of entities, she looks to nature and ceremonies that honor these connections.
"I learn from the earth and I try to understand that. Because I'm an Indigenous person, I know that my tribe had treaties with the land and the animals, and I think it's important to keep those," she said.
To exemplify the interconnectedness of all things as understood by Native peoples, Hogan shared two images: the "Napperby Death Spirit Dreaming," and the "Chippewa Indian land claim presented to the U.S. Congress in 1849." In each of these illustrations, a story is told through a visual image. In the "Napperby Death Spirit Dreaming," various entities' dreams are painted including those of the sun, moon, water, and yam. Interwoven between these dream images are physical, ecological locations such as camp sites and journey lines.
Later in her discussion, Hogan shared her enthusiasm in the NAU academic community due to the willingness of numerous scholars to understand this type of knowledge and incorporate it into conventional curriculum.
"It's the idea of restoration. That's one of the things I find exciting about this school-people here are interested in restoring and trying to do the right thing," she said.
The McAllister Chair Search Committee consists of Sandra Lubarsky, Fredricka Stoller, David Schlosberg, Lomayumtewa Ishii, Frances Riemer, Stephen Hart, Julye Gess-Newsome, Jane Marks and Gary Deason, chair.
Bron Taylor holds a Ph.D. in religion (social ethics) from University of South Carolina. Trained in ethics, religious studies, and social scientific approaches to understanding human culture, Taylor's scholarly work engages the quest for environmentally sustainable societies. Appearing in articles, books, and a multi-volume encyclopedia, he examines a wide range of phenomena, especially grassroots environmental movements and organizations, and international institutions, with special attention to their moral and religious dimensions.
An academic entrepreneur and program builder, he led the initiative to create an academic major in the environmental studies at the University of Wisconsin Oshkosh, later initiated and was elected the first president of the International Society for the Study of Religion, Nature, and Culture, while also founding its affiliated journal. Recruited to fill the Samuel S. Hill Ethics Chair at the University of Florida in 2002, he played a leading role in constructing the world's first doctoral program with an emphasis in Religion and Nature. Most recently, he has been involved in an international think tank exploring ways to more effectively promote an environmentally sustainable future.
Kathleen Dean Moore is University Writer Laureate and Distinguished Professor of Philosophy at Oregon State University (OSU), where she is the founding director of the Spring Creek Project for Ideas, Nature, and the Written Word. She is the author of a textbook on critical reasoning and an Oxford University Press book about forgiveness. At OSU, where she was twice named a Master Teacher, she teaches a Philosophy of Nature course which meets in the high Cascade Mountains. Moore's work has been widely published and anthologized, appearing in magazines such as Orion, Discover, Audubon, Wild Earth, Hope, and Field and Stream. She is the author of award-winning books about cultural and spiritual connections to place.