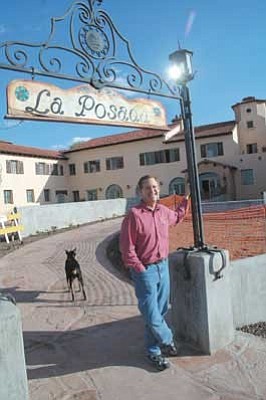 Originally Published: May 9, 2007 4 a.m.
Southeast Asian cultures believe that if a leader possesses a white elephant, he will lead with justice and bring prosperity to the people. Such a leader has stepped forward who many describe as a "fiscally conservative, progressive democrat," with new ideas, but with the support of republicans who recognize his actions across party lines.
Allan Affeldt, Winslow mayor and owner of La Posada Hotel in Winslow, could be considered the great white elephant hunter and now has Arizona Republican Congressman Rick Renzi's position in his sights, for which Affeldt intends on running.
"I have been encouraged to run for this seat for the last several elections," Affeldt said. "But I was not ready at the time and had too much to finish at La Posada."
Over 10 years ago, the deteriorating historic La Posada Hotel in Winslow ‹ designed by Mary Colter, America's most influential woman architect ‹ was to be abandoned by the railroad and was considered to be a white elephant by many in Winslow. No one wanted the Spanish style hacienda that was built in 1930 because of the hard work involved in bringing it back to life. Winslow's white elephant just sat there out in the open and Affeldt bagged it. He moved to Winslow in 1997 to become the owner of La Posada after negotiating the hotel's acquisition between two railroad mergers and then spent years ‹ with his own money, sweat and blood and the help of friends ‹ to get this crown jewel of the railroad open once again.
Since then, Affeldt has brought prosperity to the struggling economy of Winslow by turning La Posada into an again famous and successful tourist destination for Winslow and northern Arizona.
The hotel is graced with many thought-provoking paintings of American presidents' wives painted by Affeldt's wife Tina Mion, an accomplished artist who now has a portrait of two Winslow gospel singers being displayed in the Smithsonian National Portrait Gallery. This summer she will have another show there with her portrait of two Winslow residents who worked for La Posada when it was a Harvey House.
In 2005, the people of Winslow elected Affeldt to be their mayor.
"I have always been more interested in social justice issues than in running a hotel," he said.
Since Affeldt has been mayor he has encouraged Winslow, a reservation border town, to be more inclusive of Native Americans who live, work, shop and raise families in Winslow.
Affeldt initiated the creation of Navajo and Hopi liaisons to improve communication between tribal governments and the city of Winslow. He also has been working to bring a detox center to the region to deal with the severe alcoholism.
"Allan Affeldt's bid for Congress comes as no surprise to me. He has done much for Winslow and surrounding communities, especially in encouraging and implementing the much needed Navajo and Hopi partnership in the city of Winslow to improve communication and productivity for all, without discrimination ­ that is leadership we all should support," said Mona Seamon, Navajo liaison to the city of Winslow.
Those who are successful business people, cultured, well educated and not spiteful have great respect for Affeldt regardless of their political views.
Winslow resident Marie LaMar, a retired real estate agent and Winslow Harvey Girl ambassador, also a registered democrat who votes republican, said she respects Affeldt's abilities as a leader and had many good things to say. LaMar has spent over a decade going to almost every Winslow City Council meeting and scrutinizing local leaders for what she saw as negligent, self-serving and a waste of tax payer dollars in the city government. She said Affeldt has been a breath of fresh air to all of this since he came to Winslow and became mayor.
"Affeldt is a very intelligent and capable person who stays focused and sticks to his principles," she said. "He has always been true to his word and meets every challenge with creative logic."
LaMar has known Affeldt since they crossed paths at during the Winslow community's initial effort to save the La Posada in 1994. She said she has noticed Affeldt to be a natural leader who does not pander to others.
"He brings the best out of people around him to rise to their potential, but is also not afraid to hold them accountable if they cannot perform or meet that challenge," she said.
Winslow Councilwoman Judy Howell, a 41-year registered republican, has been fighting for 10 years against what she said she believes is "incompetence, little groups hogging local decisions and influence and not doing what is best for Winslow."
"Instead of being adversarial like many previous Winslow leaders, Affeldt has made City Hall comfortable for citizens again," Howell said. "He has been pulling Winslow out of a difficult time."
Republicans like LaMar and Howell admire Affeldt's keen business sense and agree with his conservative views on government spending.
Affeldt said he loves Winslow as it has been good to him and now he wants to give back.
"I was raised in a traditional republican family who taught me that those who prosper have an obligation to give back to their communities," Affeldt said. "My parents believed in limited government and self-reliance. The self-interest, greed and shortsightedness of the current republican administration does not represent traditional republican or democratic values."
"It is time people focus less on party affiliation and more on the issues and what is the right thing to do for everyone," he said.
For more information on Allan Affeldt's congressional campaign, go to www.allanaffeldt.com
More like this story