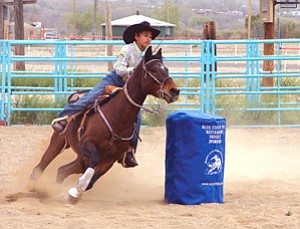 Originally Published: May 8, 2007 3:44 p.m.
Rain and wind did not deter the cowgirls and cowboys from competing at the Western Junior Rodeo Association's (WJRA) Membership Drive II Rodeo held April 21 in Shiprock, N.M.
WJRA had more than 300 entries and awarded over $4,400 in prize money to the contestants. All-around winners were: Midget Division: Paige Dale; Pee Wee Division: Ty Sage; Junior Division: Eyron Cowboy; Senior Girls Division: Lynelle Logan; and Senior Boys Division: Kurtis Lee and Emerson Long (tie).
Competition will be tough as these cowboys and cowgirls compete during the rodeo season for year-end awards.
The next WJRA sanctioned rodeo will be the Sanders Rodeo on May 13. The event will take place at the T/G Arena in Rare Metals. Grand Entry will be at 9 a.m. DST. Running P saddles sponsored by Okland Construction will be awarded to the high point cowboy and cowgirl.
The Johnny McCabe will sponsor Hoskie designed belt buckles and Navajo Nation Council Delegate Hope McDonald Lone-Tree will provide awards to the event winners.
Since it is on Mother's Day there will be a special mother's pole bending event with $50 to the winner. Fathers will be included in a special goat-tying event with $50 to the winner.