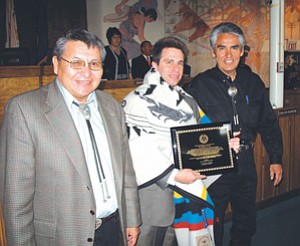 Originally Published: May 1, 2007 6:28 p.m.
FLAGSTAFF-Democrat Howard M. Shanker officially declared his candidacy for the House of Representatives for Arizona's Congressional District One in Tuba City last week. Shanker, a long-time resident of Arizona, who makes his home in Flagstaff, is one of the founding members of The Shanker Law Firm that has offices both in Flagstaff and Tempe. Shanker filed his Statement of Candidacy with the Federal Election Committee (FEC) on April 24.
Shanker, who formed an exploratory committee earlier this spring, has devoted his career to fighting for the rights of individuals; preserving the quality of life for Arizonans; and protecting the environment. Shanker is a family man, the son of a decorated WWII veteran, and a small business owner.
Through his ardent legal representation, Shanker has laid the groundwork for responsible stewardship for a sustainable future for Arizona. Shanker believes effective leadership entails knowing how to work within the framework of the nation's legal and legislative system, and then setting a positive plan of action into motion.
"It is essential that our veterans are treated with dignity and respect. Our vets deserve comprehensive health and educational benefits. We also need to make sure that the Veteran's Administration is capable of meeting the needs of the growing number of service men and women that will be coming into the system," he said.
According to Shanker, "The Iraq War is probably the most pressing concern facing our nation. I do not agree with President Bush about how to conduct this war, but an immediate withdrawal is not the answer either. The occupation of Iraq must be safely and responsibly replaced with a humanitarian effort to rebuild their war-torn country.
"Normally in wartime it is the obligation of the administration to set policy directives for the conduct of war. The war in Iraq has, however, been going on for four years with no apparent leadership. As a result, Congress needs to fill the void.
"Because of these ongoing failures, I support the Senate bill passed April 26 that would fund the troops, but also set benchmarks that need to be met by the Iraqi government. The bill also set a non-binding goal of completing troop pullout by April 1, 2008, allowing for forces conducting certain non-combat missions, such as attacking terrorist networks or training Iraqi forces, to remain," Shanker said.
"We need to negotiate a political solution to the current morass, one that: devises a fair plan to share oil revenues among ethnic groups in Iraq; starts a reconciliation process to defuse sectarian tensions; addresses the disastrous de-Baathification and puts Sunnis back to work; and engages sectarian death squads and tears them out of Iraqi security forces, 'root and branch.'
"We should also be taking steps to de-escalate our troop involvement in the civil war that has engulfed Baghdad.
"Those men and women can be re-deployed to surrounding bases, to other parts of the country, to Kuwait and Qatar, and especially to Afghanistan. We should consider the Biden-Gelb plan for a soft partition of the country.
"Tens of thousands of Iraqis a month are relocating out of mixed sectarian neighborhoods," Shanker explained.
For more information on the candidacy of Howard M. Shanker, visit his campaign website www.HowardShankerforCongress.com.