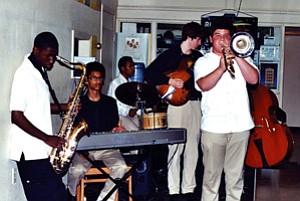 Originally Published: May 1, 2007 6:31 p.m.
NEW ORLEANS, La.-Hopi High radio students Traci Talahytewa and Felix Poleheptewa gave brief public speeches at Cafe Reconcile where youth gathered to give their view of Hurricane Katrina.
More than 100 people gathered at Cafe Reconcile to hear Youth Radio's Generation Katrina, a CD compilation about how the youth were impacted by Hurricane Katrina.
The CD was produced by Youth Radio from Berkeley, Calif., with Ellin O'Leary as the executive producer and Brett Myers as the show producer. Jiarra Jackson from New Orleans served as the show's host.
Both Talahytewa and Poleheptewa spoke in Hopi and English and received applause from the mostly New Orleans audience.
Talahytewa, president of the Hopi High Radio Club told the audience about the weekly Hopi High Teen Show on KUYI Hopi radio and about news briefs that the students contribute to KINO radio in Winslow.
Poleheptewa also spoke about Hopi High radio students contributing to the public radio exchange, also known as PRX.org. Poleheptewa serves on their editorial board.
Jackson said the future of New Orleans cannot progress without the voice of the next generation. She said that youth voices were overlooked during Hurricane Katrina, not so much from racism, but because of power.
She said wealthy people do not want Department of Housing and Urban Development (HUD) houses, but a tourist mecca.
Darren Jasper Jr., a student at the University of New Orleans, recounted how he lost everything he had and had to live on the floor following Hurricane Katrina.
Ian Bristo, also a student at the University of New Orleans said life as they knew it was gone, but the spirit of the people and the culture remain unique.
Cafe Reconcile serves up gumbo, fried chicken and egg rolls, but more importantly Cafe Reconcile, in the Central City section of New Orleans, also serves as a training ground for cooks.
Chef Joe, whose real name is Joron Smith, came to Cafe Reconcile five years ago when he was facing problems with drugs. "If not for [the café], I would be on the street," he said.
But as Chef Joe was pulling himself out from the depths, "I got to watch my city go underwater." He continues to work at Cafe Reconcile where he talks to kids about drugs and alcohol. "I went left. You might want to go right," he tells them.
Cafe Reconcile is about to be remodeled into a multipurpose center where students will be able to obtain literacy and computer training.
The evening was filled with culture as a band from the New Orleans Kreative Arts performed New Orleans style music and Jay Alacazar gave a poem in poetry slam style.
"You need a tic tac because your breath smells like it's full of lies," he said about government officials who promised help to Hurricane Katrina victims, but have yet to come through.
Alacazar said his home was destroyed by Hurricane Katrina. He recalled being speechless when he first saw it and added that two years later, there is still no progress. He said a lot of people continue to volunteer to help the victims.
O'Leary said she was very moved and impressed with the collaboration on Youth Radio's Generation Katrina project.