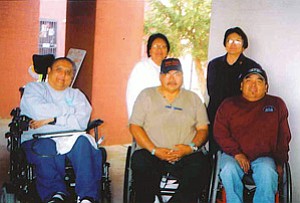 Originally Published: May 1, 2007 6:59 p.m.
TUBA CITY-ASSIST! to Independence, a non-profit organization located in Tuba City received a one-year grant in October from the U.S. Department of Health and Human Services, Administration for Children and Families to provide leadership development training for its board of directors and administrative staff. The goal of the ASSIST Leadership Development Training Project is to provide culturally appropriate leadership development training for the board of directors to enhance their capacity to function, govern, and ensure the provision of quality independent living (IL) services for Native American with disabilities to live independently; enjoy self-determination, and fully participate in community life based on informed choice.
ASSIST was established in 1998 by a group of tribal members with disabilities to provide consumer-driven and culturally appropriate IL services and related services to eligible tribal members with disabilities who reside on the Navajo, Hopi and San Juan Southern Paiute reservations. ASSIST is the only independent living center and assistive technology center located on tribal lands in the U.S. providing IL services to Native Americans with disabilities who reside in remote and isolated rural communities.
The primary funding source for ASSIST is the U.S. Department of Education, Office of Special Education and Rehabilitative Services, Rehabilitation Services Administration which requires that 51percent of the board of directors are individuals with disabilities.
The current board of directors includes Peterson Yazzie (Navajo), board president; Sophie Quotsyuva (Hopi), board secretary/treasurer, and board members: Judy Talawyma (Navajo), Heath Hudson (Navajo) and Arthur Hardy Sr. (Navajo). The board is currently recruiting for new board members and interested individuals may contact Peterson Yazzie at (505) 979-1389 or (505) 863-8295 for additional information.
On Jan. 12-13 and March 15-16 of this year the first and second leadership development training was held at the Little America Hotel in Flagstaff and was facilitated by Lee R. Gaseoma who was hired as the project consultant. With the input of the Board members and ASSIST administrative staff, training topics included: The Importance of Ethics in Non-profit Organizations; Strategic Plannin; Cultural Perspectives Regarding Individuals with Disabilities; Importance of Organizational Mission Statements; and Defining Leadership Roles, Responsibilities and Expectations.
Each quarter, the participants will be involved in a "hands-on" projects (i.e., community outreach and dissemination; recruitment and membership, fund raising; self-advocacy, and policy development) to apply knowledge and skills learned. The proposed outcome of the project is to enhance the leadership skills and knowledge of the board of directors to fully engage in the decision-making processes to achieve the mission of the ASSIST! to Independence.
For more information about ASSIST program services, contact Michael Blatchford, executive director at (928) 283-6261 or visit www.ASSISTtoIndependence.org.