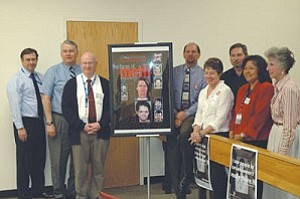 Originally Published: March 28, 2007 4 a.m.
The Navajo County courtroom displayed the usual signs associated with poverty in rural America like tattoos on the neck, expressions of depression and illness and manic youth.
The NavaCo commUNITY Against Meth used such a courtroom to announce the beginning a new phase in their battle against meth. They will begin by developing curriculum and a teacher-training program for Navajo County schools where they will also be releasing campaign posters for public awareness in the halls.
Show Low, Snowflake, Taylor and Pinetop-Lakeside, have all shown a receptive public from their town hall meetings and school district participation.
"Based on the results of 400 surveys completed during the town hall presentations, further education ranked as the top need in the community (85 percent)," said Debe Campbell, the Navco Anti-meth coalition coordinator.
"Maribelle Ogilvie told us that Winslow schools did not need such a program because their schools' resource officer already spoke to the students about meth," Campbell said.
According to a 2006 Arizona Youth Survey, Navajo County had the highest percentage of 12th grade students who responded to the survey as having used meth. Arizona also leads the nation in meth use by teenagers.
Major Crimes Apprehension team reports that meth is the number one drug problem in Navajo county. One out of three DUIs are meth related and so are 85 percent of probation department cases.
Navajo County claims that 90 percent of the average of 400 inmates in their county jail were somehow associated with meth in their crimes.
"Meth destroys everything it touches and is closely connected with many types of crimes," said Arizona Attorney General Terry Goddard. "This collaborative mass media prevention campaign targeting youth, young adults and parents is a first for Arizona."
The county anti-meth coalition is adamant about getting a program into the schools to educate the younger generations while they can before the problem gets worse.
"The response to this coalition has been remarkable," said Navajo County Judge Dale Nielson. "I think we are on the road to educate a whole new generation about the dangers of this drug."
After the NavCo anti-meth coalition implements their community meth education campaign, they will move forward towards meeting objectives for rehabilitation.
In the meantime, the educational campaign will outreach to social clubs and begin asking for help from the business community. Cellular One, based in Show Low, has stepped forward to contribute time and money to the anti-meth campaign. Brad Solomon, marketing manager for Cellular One, has joined the coalition because he said he has seen first-hand the devastating effects meth-use has had on people he has known.
Leann Baker, a secretary for Navajo County has been through meth addiction and shows the exuberance of someone who has been given a new lease on life. She said she has been clean and sober for six years, but before then she had been involved in drugs for 20 years '­ going back to the day when a over-the-counter pharmacist showed her how to break-up and extract the stimulants from a since-banned diet pill called Black Beauties.
Over six years ago when Baker ended up spending 109 days in jail, it gave her some time to clear her head.
"I became tired of the physical and mental abuse," she said. "People have to quit looking the other way from this problem."
Since she has been clean, Baker has rediscovered a sense of self-worth that she said was lost to herself and meth-users around her in the past.
"I've learned that my past is not my potential," she said.
Local services available for those seeking counseling for meth addiction may find Narcotics Anonymous meetings every Fri. at 6 p.m. at the Episcopal church in Winslow or they may contact the Community Counseling Center at 289 ­ 4658.