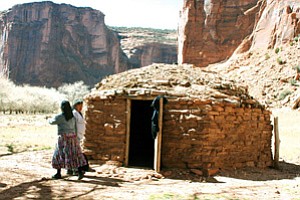 Originally Published: March 27, 2007 1:16 p.m.
Since the creation of Verde Valley School in 1948, students have worked for and with Native peoples in the Southwest. For the past ten years, art teacher Thom Dougherty has lead this spring field trip to First Nation communities. His goal is to teach students to learn about and respect other cultures and to complete community service by helping the elderly with chores and home improvement projects, etc.
In the top photograph the Henry family Hogan in Canyon de Chelly is pictured, which Verde Valley School students have been rebuilding for the past four years. They reinforced the walls, repatched them with mud and rebuilt the roof exactly as it was built originally by Winnie Henry's father. 
This year, students helped Winnie Henry repair a fence, install a new stove in her Hogan, clear Russian olive and tammark trees and then plant 16 fruit seedlings. A sun screen for her outdoor kitchen area was also installed.
When the group returned on March 18, all the students unanimously agreed that it was a life-changing experience. In the lower photo, the group is pictured with Hopi Elder Jerry Honawa who was one of the many speakers who helped to enlighten the students about issues like water rights, Native American traditions and values, etc.
For more information visit www.vvsaz.org.
More like this story