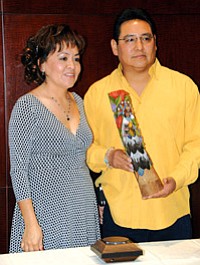 Originally Published: March 27, 2007 1:38 p.m.
PHOENIX-On Friday, March 2, the Hopi Education Endowment Fund (HEEF) held its fourth annual Silent Auction in Phoenix. With 35 pieces of exceptional artwork available for bidding, the HEEF was able to raise over $24,000. The feature piece by Aaron J. Fredericks, "Fruits of Our Prayers," sold for $6,900 to a buyer from the Boston area.
The auction included pottery, jewelry, sculptures, paintings, katsina dolls, prints, textiles and baskets from a number of prestigious Native artists, including Delmar Polacca, Clark Tenakhongva, Duane Maktima, Buddy Tubinaghtewa, Val Kahe, Orin Poley, Jr. and Debbie Montoya.
HEEF President Monica Nuvamsa and Executive Director LuAnn Leonard welcomed over 200 guests from places as far away as Georgia, Minnesota, and Massachusetts.
Each spoke on the benefits the Hopi people would receive from the proceeds of the event and thanked attendees for their support. In attendance was newly elected Chairman Ben Nuvamsa, who shared his thanks and appreciation with other attendees.
HEEF members Leroy Shingoitewa and Burt Poley served as emcees for the event, and not only provided light humor for the crowd, but also encouraged bidding.
Also providing entertainment throughout the evening was Clan Destine, an award winning Phoenix based native band, in addition to performances by traditional Hopi vocalists Anita Poleahla and Ferrell Secakuku and Miss Hopi 2006-07 Tiffany Bahnimptewa.
Leonard stated, "The Hopi community is fortunate to have so many talented artists who are willing to generously donate a piece of their work in hopes that the funds raised will benefit others."
She also added an event such as the Silent Auction would not be possible without the generous sponsorship from our friends Peabody Western, APS, Merrill Lynch, Walker & Armstrong, McGee's Indian Arts, CellularOne, Husk Partners, Canyon Records, Hopi Telecom Inc., Images & Words Printing & Graphics, and Cheap Clothes Shirt Co.
All funds raised during the Silent Auction are deposited into the endowment fund and the interest used to provide funding support for Hopi education programs such as the Hopi Tribe Grants & Scholarships Program.
The HEEF is a non-profit entity of the Hopi Tribe; therefore, all artwork donations and sponsorships to the HEEF are tax-deductible. For more information on the HEEF or for a list of raffle winners contact the HEEF (928)-734-2275, via e-mail at heef8@aol.com, or visit our website at www.hopieducationfund.org.