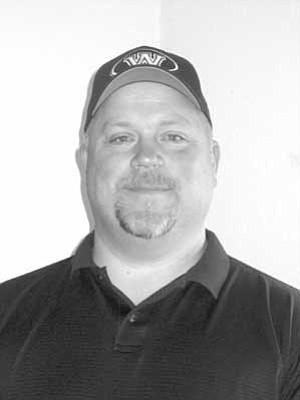 Originally Published: March 14, 2007 4 a.m.
Winslow High School Athletic Director Don Petranovich said on Thursday that the school board had approved the hiring of Gene "Rusty" Robertson, Jr. as the head football coach of the Winslow Bulldogs at its regular board meeting on Wednesday.
Robertson has had 13 years of coaching experience while working at almost every level possible. He is currently the President of the 3A North Region and serves on the Arizona Interscholastic Association 3A Executive Board. He had served on the Football Games Committee for the past three years and was the athletic director, head football coach and offensive coordinator at Hopi High School until accepting the Winslow position.
He played college football at Southwestern Oklahoma State University and also attended Southwestern College of Winfield, Kansas, Oklahoma Baptist University, Panhandle State University, the Andersonville Baptist Seminary, Northern Pioneer College and the University of Phoenix. Robertson is a registered athletic administrator.
Robertson's coaching experience includes being offensive line coach at Southwestern College, defensive line coach at Panhandle State University, offensive and defensive line coach for the Tulsa Talons, the Oklahoma Wranglers and the Dallas Desperados, head track coach at Temple Christian School where he won two state championships, assistant head football and defensive coordinator and off-season coordinator, assistant varsity football offensive and defensive line coach at Ganado High School, athletic director, thrower track coach, head football and offensive coordinator at Hopi High School.
He states that his philosophy of coaching includes four primary objectives. They are having everyone participate in an off-season program to become bigger and faster, communication in which all coaches and players communicate with each other at all times, determination to put in the time before the game to have the team ready to play and teamwork in which every member of the team and coaching staff works together to do their best.
Robertson stated that when he deals with young athletes he needs to constantly remind himself that they are moldable and that this is not a life or death situation. It is still just a game. A win or a loss is not the most important thing that happens. "God is good all of the time, and all the time God is good."
He sees his job as having two major parts and never being over. The first and least important is to teach skills. The most important task he and any coach faces is making men out of boys. He strives to teach boys to play hard and with passion, to be humble in victory and proud in defeat. Even more important is that they live up to their potential no mater what that potential may be. He wants them to strive to do their best and never be satisfied with what they are but work to be as good as they can be if they try harder. He quoted St. Francis of Assisi, "Start by doing what is necessary, then what is possible and then suddenly you are doing the impossible."
He said that a coach can never make a great player out of a boy who is not potentially great, but that he can make a great competitor out of any player. He said that for a coach the final score doesn't appear on the scoreboard but is measured in how many boys he helped make into good men.
Robertson said that he wants his players to have as much fun as humanly possible. It is more fun when you are winning, but you can still have fun and teach and love your players when you are not winning. He said that he is not one who believes he knows everything about the game and will be open to constructive criticism at the right time and place.
Robertson is married to his wife Hope and has two children, a son Bo who is a junior at Peru State University and a daughter Kaleigh who is a senior at Hopi High School.
More like this story