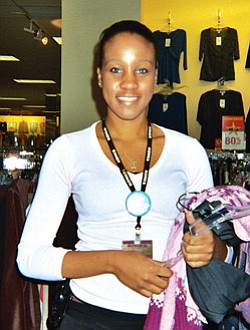 Originally Published: March 13, 2007 6:55 p.m.
FLAGSTAFF-With more than $10,000 in scholarship awards, the Disbursing Real Educational Academic Minority Scholarships (DREAMS) program has helped send a dozen local minority teens to college in the last seven years and this spring, it's hoping to help three more Flagstaff Unified School District (FUSD) students realize their higher education goals.
DREAMS is looking for high school seniors who have earned good grades, been involved in community service and have a financial need. Minority students, especially Native Americans, who attend high school at Coconino, Flagstaff or Sinagua High are especially encouraged to apply for the scholarship.
"In the past 10 years that I've been attending awards ceremonies, very few minority students receive the more lucrative scholarships," said DREAMS member Reverend Arnold Locket. "By awarding scholarships, we're taking a step in being a part of the rest of these students' lives." His wife, Jeffie, also a DREAMS member says minorities don't have many role models in Flagstaff. "We're trying to instill in them the importance of higher education and give them that extra push.
Ronnie Whitehead is one of those students. The former Flagstaff High School running back knows he has a body for football. He also knows he has a mind for business. "I'd like to be an entrepreneur one day," he says. As he approached the end of his senior year in high school, he began to worry about how he would reach his goals. He applied for the DREAMS Scholarship.
"I think they saw how motivated I am. It means a lot to me to be chosen for this scholarship. It made my future clearer and motivated me. I knew I was going to college."
Today Whitehead is a freshman at NAU and plans to play football for the Lumberjacks in the fall. He also is a student worker at the Coconino County Recorder's Office, earning money to support his education.
Similarly, Sateria Clayton has always had plans for a bright future beyond high school. Her childhood was a constant parade of pets-frogs, turtles, dogs, birds, fish and hamsters-and she was the grand marshal of that parade, and she loved and cared for each living creature.
"I want to be a veterinarian and I feel that goal is attainable," says the honor student from Flagstaff High. Clayton's father helped her understand the value of an education. "He rewarded me for good grades. An A got $15, a B got $10 and I think a C got $5 but I never got Cs."
Even with her good grades, Clayton knew she'd need more than that to begin her college education. She applied to the DREAMS organization.
"I was excited to receive the scholarship. It helps me out a lot!" Clayton studies biology at NAU and works part-time at Kohl's.
Growing up in a segregated rural community in the deep South, Annie Watkins knows the value of an education. The 78-year-old retired school teacher understands that if you want it badly enough, you'll find the money to take the Greyhound Bus and the dignity to stand for the 12-mile ride to go to the black high school.
Watkins remembers the signs of the 1940s that indicated where blacks could sit in Maurice, La. She also remembers the non-verbal signs of the 1950s in Flagstaff that let her know if she'd be served in a restaurant or allowed to sit on the main floor of the Orpheum Theater.
"Our parents wanted their children to know that we were just as smart and capable as the other children," said Watkins. "And we always made sure our children knew what potential they had."
Now, with two grown sons-both with advanced degrees-Watkins is part of the DREAMS organization.
"It takes a community effort to send kids to college," says local businessman and DREAMS board member Martin Zanzucchi. "If we can all pitch in a little bit we can make a difference in lives, and that will mean a lot."
The Lockets lost their daughter, Leona Locket-Joyce, to leukemia in 1998 and their son-in-law, Joe Nathan Joyce, less than a year later in a drowning accident. Friends helped established the DREAMS Scholarship to continue supporting their community and youth development and to help minority graduates have access to higher education opportunities.
"I think I have a somewhat unique story," says Leona's brother and DREAMS board member Lyman Locket. "I rose to a substantial level in a Fortune 50 company without finishing my bachelor's degree. I've since gone back to school and I hope to afford more opportunities for others seeking higher education."
"Education, of course, provides a means to a livelihood but it should also provide food for the soul and mind and help us understand our world," says retired NAU payroll specialist and DREAMS board member Connie Kim. "We want to support young people and help them reach their dreams."
Founding DREAMS member Danny Neal says the group expects to reach its fundraising goal of $5,000 by April and plans to award three scholarships this May, honoring one student from each of the FUSD high schools. Students from these schools (Coconino, Flagstaff and Sinagua High) may pick up an application from their counselors' office.
The organization is also seeking donations to help more students.
"We need a little bit of help from a lot of people," says Zanzucchi.
To contact DREAMS for information on making a donation, call 928-774-7607.