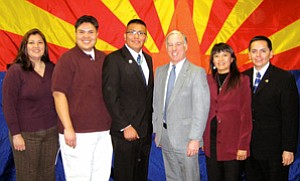 Originally Published: March 13, 2007 5:13 p.m.
PHOENIX-The dots have been connected and the ties have been strengthened as Native American leaders from throughout Arizona met with Howard Dean, Chair of the Democratic National Committee (DNC) on March 2 in Phoenix. Dean's visit symbolizes the DNC's outreach efforts to Native Americans, a goal that Dean hopes to improve and expand on in the coming years.
Many Native American communities across the nation say that the federal government has neglected Indian Country and their concerns have been ignored for years. Dean hopes to strengthen these political ties in order to elevate concerns of Native Americans nationwide.
The Democratic Party recently increased outreach efforts throughout America and Dean advocated for more Native American political involvement. "We will build a stronger Native America through a government-to-government relationship. We will have a better presence and improve communication. I want a government that meets with Native Americans on a regular basis," said Dean to the roomful of Native American leaders.
Dean said that the Democratic Party will empower Native Americans and that no one will be left out. The Democratic Party has the most Native American employees than ever before and they pride themselves on their diversity. Dean explains, "it is an important partnership for us all."
Arizona State Senator Albert Hale explained that Native Americans are frustrated at being told over and over that there is no money for their programs. "This is common among all Native nations and we hear the same answer every year of no money. All the money is being diverted to Iraq. We need to get beyond the rhetoric and get things organized. We need to strengthen Native American ties to the Democratic Party and I want to see a cabinet-level position in the White House, get a representative from Indian Country."
"Native Americans have been patient and respectful long enough," said Wendsler Nosie, Chairman of the San Carlos Apache Tribe. "I feel sad that nothing has changed, no one has worked with us. A partnership with the U.S. Government is needed. Native Americans need to be proactive and educate themselves about the issues. The education will eventually filter back down to our younger generation. I see change and I want Native Americans to move into the county, state, and federal levels."
Voter turnout in the last Congressional elections certainly recognized the voting power that Native American nations possess. Lamont Yazzie from the Office of the Navajo Nation president and vice-president said that American Indian communities continue to play a role in the success of the Democratic Party. "The Native American voter turn-out continues to increase. We need to continue the challenge in educating the U.S. Congress about their unique relationship with Indian Nations. Our two-prong approach should be to continue exercising our sovereignty in government-to-government relations and increase our participation."
Arista LaRusso, Democratic Party Tribal Outreach Director, said that the visit by Dean was groundbreaking. LaRusso explained that the DNC passed a resolution supporting Native Americans on Dec. 3, 2005 and the Arizona Democratic Party continues to make inroads to further the foundation between the tribes and the Democratic Party.
Dean is excited that the increased participation of Native Americans across the country will make the difference in the mid-term Congressional elections in 2008. LaRusso explained that she would like to see more meetings like this held in the future. "The [Democratic] Party has reached out and Native Americans need to take the initiative to participate and make their concerns known. Let [the Party] know who they would like to see in office and what initiative and referendums will affect their tribes. Many times, we think we don't make a difference, but in reality we do."
For more information about the Arizona Democratic Party, visit their website at www.azdem.org, and in Coconino County, visit www.ccdem.org. For further questions, please contact Joshua Lavar Butler, Director of Public Relations, Coconino County Democratic Party.