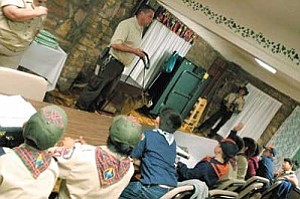 Originally Published: March 7, 2007 4 a.m.
Elementary school kids like dogs. Prisoners like drugs. This was the lesson for Winslow Boy Scout Pack 284 last week when officers from the Winslow Prison Complex brought two drug-sniffing dogs to present to the children.
This was the idea of den leader Paul Phillip, who organized the event to bring two dogs to see the kids since the kids are not allowed to visit the prison. Max, a Belgian Malinois is used for drug detection, and JR is a bloodhound used for tracking
Alex Swan and Jake Flancher are two dog trainers working as correctional officers at the Winslow Prison, who explained a little about their jobs with the dogs.
"Max is trained to find four types of narcotics ­ marijuana, cocaine, heroine and methamphetamine," Swan said.
Max is used to search for hidden narcotics in the cells at the prison. They feed the dog high energy food and keep him active so he is agile and can maneuver within the confines of a cell.
"What if the dog does not want to look for drugs ­ what then?" said a young boy.
Officer Swan explained to the kids how he trained Max to follow Dutch command signals to do things like "sit" and "stop." "Stop!" could come in handy if Max were needed to take down a bad guy. The dog wore a muzzle to the demonstration because he is capable of biting, the officers said.
Though none of these dogs has been in a situation to attack, they are trained to do so and that help keep prisoners in line because they know what the dogs are capable of, said Ernie Garcia, associate deputy warden at the Winslow Prison.
"Our dogs are also trained to be much more sensitive to narcotic smells than you would typically find in other agencies because the quantity of drugs we are looking to find in prison is much less than that being looked for by Customs who are looking for mass quantities," Garcia said.
Garcia said that the prison has a total of three trained dogs, of which they can detect narcotics or track down a human scent. He said they assist the Department of Public Safety and the Winslow Police Department when called upon and get positive results when they do so.
"We use positive reinforcement, sometimes negative, to train the dogs," Swan said.
He led Max around the class to look for a towel saturated in marijuana that the dog eventually found behind a table.
When they brought out JR the bloodhound, one boy shouted, "Hey, it looks like one of the dogs from Where the Red Fern Grows."
Many of the kids asked many questions and came forward to pet JR the bloodhound.
Garcia said the bloodhound has 60 times the smelling capability of the average human. Every time the human body moves it leaves a mist of invisible scent that is excreted through our porous skin and we also constantly shed dead cells, he said. These are the two options dogs have for following a scent.
Depending on the conditions, training, breed and environmental factors, dogs can track a smell from a few miles up to 30 miles, Garcia said.