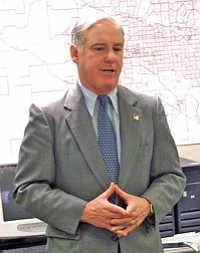 Originally Published: March 6, 2007 4:44 p.m.
PHOENIX-For the past six years, Native American tribes throughout the nation have seen a steady decline in programs and an increase in funding cuts by the Bush administration. From Head Start to healthcare, law enforcement to small business initiatives, the continually growing needs of Indian Country, Alaska and Hawaiian Native peoples are not being adequately addressed.
Consequently, tribal governments are forced to work hard at finding creative solutions to maintain a dwindling number of vital programs essential to the growth of their communities.
With that in mind, Vermont Governor Howard Dean, current Chairman of the Democratic National Committee paid a visit to Phoenix on Friday, March 2 to meet with prominent tribal leaders from throughout the region to address various needs in the areas of education, healthcare and tribal sovereignty.
One of Dean's primary goals during his visit was to encourage tribal representatives to return to their communities to promote more political involvement and participation from their own community members. Dean also said that Native representatives, especially from the younger generations, are now chiefly responsible for making decisions concerning their communities. "Young people in Native American communities are doing this work. This isn't a bunch of white folks," Dean said. "This is a very exciting time."
Part of Governor Dean's overall message to tribal leaders was to encourage more Native American candidates to run for all levels of local, state and federal government. He stressed that youth were agents of change and emphasized the more educated individuals that were in office, the more political power they would have.
During a special teleconference held on March 2, Governor Dean addressed the importance of Native Americans to the Democratic Party, which has been working diligently during the past few years to encourage more active participation from Native Americans on all fronts. He included the fact that the Native American Caucus of Arizona is actively encouraging Native Americans to become more involved at the state and federal levels. Dean commented that he had never before seen so much activity on the reservations and attributed the 2006 election of U.S. Congressmen Tim Johnson (D-South Dakota) and John Tester (D-Montana) to Native American votes.
"There are at least three Congressmen who owe their seats to Native American voters," Dean said. "This vote is very important to us."
For Flagstaff residents, the formation of the Native American Democrats of Northern Arizona (NADNA) group late last year has added another voice to the growing number of indigenous people who have, up to this point, been voiceless. NADNA members have promised to work on increasing voter registration and promoting Democratic values throughout the Native American population in Northern Arizona; not only in Coconino County, but in neighboring Navajo, Apache and Mohave counties as well.
On the Democratic Party's Web site, is states that the Party has long supported economic self-sufficiency for tribes and that they have worked to ensure that Native Americans have access to the best education, healthcare and housing. Perhaps most importantly, the Party has been very supportive of tribal sovereignty and wants to work with Native American communities to help their own communities empower themselves to become more self-sufficient.
Dean iterated the fact that Native American treaties have not been upheld for centuries, and that the best way to change that would be to have more Native Americans in leadership positions.
"We know that treaty obligations have not been kept for centuries and the best way to change that is to have Native representatives in leadership positions," Dean said.
Another one of Dean's main points was to stress the need for sovereign-to-sovereign governmental relationships between the U.S. and tribal nations, one which has never been respected.
He added that Native Americans were in a real position of power right now, particularly since the Bush Administration has done so much to damage credibility with Native constituents during the past few years with ever-increasing cuts in federal funding and programs.
When asked if Native Americans were better off now than they were during the Clinton Administration, Dean was quick to point out that the Democratic Party, as a whole, has been more sympathetic to the causes and concerns of Native American tribes. He pointed out that the standard of living among Native Americans hadn't improved much over the past six years, and that any changes that had been made with regard to community improvements have been in large part through the efforts of the tribes themselves.
Before ending the teleconference, Dean reiterated the important role that Native American tribes play in the political arena and to the Democratic Party. He stated that the Party realizes the significance of the Native American vote and that they would do everything that they could to help encourage young people in Native communities to pursue politics.