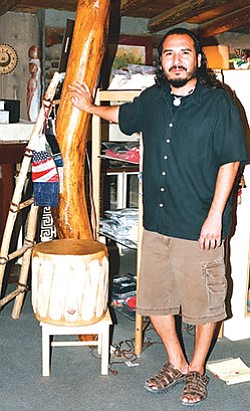 Originally Published: June 26, 2007 7:11 p.m.
SALT RIVER PIMA-MARICOPA INDIAN COMMUNITY-The Salt River Pima-Maricopa Indian Community museum and gift shop not only supports the local artists but helps keep the culture alive.
The museum displays the tribes' jewelry, basketry, clothing and pottery, but it also tells the tribes' history.
The building is the last adobe structure made by community members back in 1963.
Kelly Washington, director of the museum and gift shop, said that this building was originally a youth home that was converted into a museum. He said the younger people didn't have knowledge about their culture so they created the museum to perpetuate the culture.
They also dedicated the museum to veterans and there is a section honoring the Salt River Pima-Maricopa Indian Community veterans who have served from World War I through today's Iraq war.
This is Washington's third year at the museum, but he's about to take a step up to become the tribe's director of cultural resources. He is concerned about protecting the tribe's cultural sites and repatriation.
"I've worked with the language program for a decade and we've used the museum as a tool for community education," he said.
The museum also holds workshops about the tribe's language and culture. They recently held a pottery workshop.
"We have community based activities," he said.
Washington is concerned about protecting eagles and other wildlife on the tribe's reservation. The eastern edge of the Salt River Pima-Maricopa Indian Community includes Red Mountain where the Salt and Verde Rivers converge and terminate.
"There are eagles out there and we want to see them flourish," he said. "We're all connected to the river.
It's deteriorated, but there's still a little portion that exists."
Washington said the tribe is planning a new cultural building, but that it's several years off.