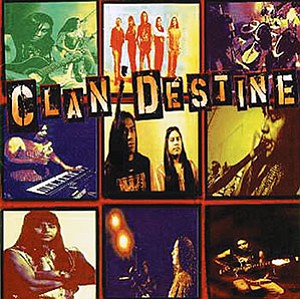 Originally Published: June 26, 2007 4:51 p.m.
FLAGSTAFF-For the second year in a row, Clan/destine will offer their musical talent with their sometimes beautiful, sometimes funky, but always quality sound all in benefit of Parenting Arizona.
Beginning at 7 p.m. Saturday, June 30 at Sinagua High School in Flagstaff, 2006 Grammy Award recipient Star Nayea and four-time World Champion Hoop Dancer Derrick Davis will join Clan/destine to rock the night away while keeping in mind the hundreds of families who benefit from the support services of Parenting Arizona.
Established in 1976, Parenting Arizona, a non-profit organization, now has locations in Winslow, Flagstaff, Tuba City, Springerville, Page, Douglas, Cottonwood, Concho, Safford, Prescott, Tucson and Phoenix.
Parenting Arizona regional manager and Winslow resident Bob Candelaria explained Parenting Arizona as a child abuse prevention organization aimed at preventing family stress by providing referrals, resources and support to parents before abuse occurs.
"We help families to use the strengths that they have to overcome these stresses," Candelaria said. "It's a way of being proactive by looking at what strengths families already possess and building upon those strengths. We ask families what the issues are and based upon their strengths what we can do to help them deal with the tough issues."
Parenting Arizona provides support in the form of rental/housing assistance, clothing, utility assistance, food boxes or vouchers, case management, holiday gifts and the Safe Haven after school program.
The organization also provides nationally recognized, curriculum based parent education classes for parents of all ages in both English and Spanish. Parents can gain local referrals for almost any type of service they are in need of.
"I think we're the central location for families-for underserved families-they come to us to find out where to go to have their questions answered," Candelaria said.
According to Candelaria, the members of Clan/destine approached him wanting to do something to benefit Parenting Arizona.
"Basically they're all family guys and most of them have kids, and they wanted to do something to help out the community," he said. "We're constantly looking to meet our funding struggles and this was a great help."
Candelaria explained that the approximate cost per family (of three or more) per year is $300. In Winslow alone, approximately 80 families are assisted each month. Thus, the costs add up quickly.
Candelaria said that Star Nayea was added to this year's concert after she performed with Clan/destine and they discovered they had similar interests in helping families.
"Star is very active. She actually has her own youth program and does youth program presentations in the communities she is performing in. So this is a perfect fit for her," Candelaria said.
Clan/destine consists of David A. Montour on bass, vocals, Native flute and Native drum; Juan "Cano" Sanchez the lead vocalist on congas, bass, Native flute, Native drums, Chinese flute, didgeridoo and harmonica; Chuck Harris on electric and acoustic guitars, vocals, Native flute and Native drum; Mike De La Torre on drums and percussion; and Matt Vaiza on turntables and percussion.
According to the group members, they introduce a new type of sound by blending contemporary influences to their heritage and creating a perfect balance of new with the old.
Combined, the group members represent Hopi, Lakota, Pueblo, Hispanic, Tohono O'odham, Mohawk, Cayuga, Potawatomi, and Ottawa histories.
Their talent and unique style earned them a Native American Music Award (NAMMY) in the Best Pop/Rock category for their second self-produced album "Deeply Rooted."
The group has toured all over the U.S., Germany, Australia, England and Spain. They've opened for several major acts including Willie Nelson, Alabama, Billy Ray Cyrus, Lorrie Morgan and Pam Tillis. They have performed for such notables as President Bill Clinton, President George W. Bush, Margaret Thatcher and Henry Kissinger.
Candelaria said that the group will share the stage with Nayea and Davis-making the show incredibly unique and blending the traditional with the contemporary.
Candelaria said approximately 200 individuals attended the family event last year and hopes to see up to 500 this year.
Reserved seating is $30; general admission is $15 in advance; $18 at the door and children 11 years and younger are free. Concessions will be available.
For more information call (928) 289-4217 in Winslow; (928) 283-4217 in Tuba City; and (928) 773-9133 in Flagstaff.
Parenting Arizona is also online at www.parentingaz.org. Clan/destine can be heard online at www.myspace.com/clandestinerezdawgs.