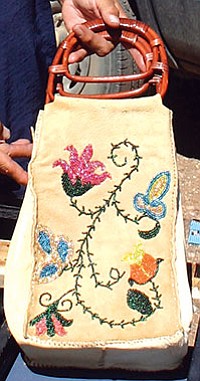 Originally Published: June 5, 2007 12:14 p.m.
FLAGSTAFF-For many reasons, much of northern Arizona intrigues and captivates its residents as well as visitors. The landscape, the air, the open-minded communities and the history are some of the benefits, but for many individuals the most valuable characteristics are the Native peoples-their knowledge, perspectives and life-ways.
In honor of Native artists, the Coconino Center for the Arts (CCA) has showcased regional artists in several exhibits since the 1980s. On Saturday, June 9, the CCA and Flagstaff Cultural Partners will kick-off their fourth annual Native American Art Exhibition with an opening reception from 6-8 p.m. at 2300 N. Fort Valley Road (Hwy. 180) in Flagstaff. The event will feature more than 45 artists, many of whom will be at the opening event to discuss their works and share in frybread, Indian tacos and other refreshments. Also at the reception will be flutist Marvin Toya of Jemez Pueblo, N.M.
According to John Tannous, CCA executive director, the event provides the perfect opportunity for Native artists to present their work in a venue not readily available to many artists.
"It's an opportunity for artists to express themselves and share their work. A lot of the opportunity for Native artists these days are at weekend markets," he said.
Tannous added that notable regional artists scheduled to present their works include Bahe Whitethorn and Shonto Begaye.
CCA gallery director Jillian Asplund said the diversity of artists is one of the most exciting aspects of the event.
"The Native population is really important and we need to give these artists a place to showcase their work," Asplund said. "An exciting part of our show is that we showcase leading artists with emerging artists."
In 2006, the first item to sell within minutes of the event's opening was Diné/Oglala artist Kim Lohnes' beaded leather shirt finely ornamented by hand with tiny seed beads. This year, Lohnes will again be featured at the show and is excited to share the floor with well-known Native artists.
"The first year I was there it was a little overwhelming," Lohnes said. "To be there with Shonto Begay, Bahe Whitethorn, Redwing Nez, Michael Klute...to be in this caliber of show...it's definitely an ego booster. Having other people recognize my work gives me the incentive to do better."
Lohnes explained that prior to this show and the Museum of Northern Arizona's annual Navajo Show, her major selling location was the weekend roadside market in Leupp where she can still be found every weekend.
Lohnes said that she enjoys displaying and selling her work at both galleries and at local markets, likening the differences between the two to the differences between living in the eastern U.S. to the West. Lohnes was born in Chicago, but returned to the Grand Falls area of Leupp with her mother when she was five.
"My mom said, 'It's time to go home,'" Lohnes remembered.
"There's a sense of freedom here. It's a combination of the land and the people that's drawing me back. It's very peaceful and relaxing. There's just something about it. The Peaks, the falls...when you sit out there you feel that water. You feel that wind, especially when people have their sheep and you hear that in the background. We have an eagle that comes out and circles above. You don't get this in the city," she said.
Lohnes has beaded for many years, but became most involved with her work when taking care of her grandmother, whose home she now lives in.
"She was a weaver, a beader, a rancher. She was the one that encouraged me," Lohnes remembered.
Lohnes' work includes symbols from various Native groups throughout North and South America including Diné, Lakota and Ojibwe. She is now also including images of Indigenous groups from throughout the world.
"My designs come from everywhere. I always carry paper with me so I can draw. They never come out the way they do on paper and I can never create the same pattern for more than one person. It's always different," Lohnes said.
She explained that much of her inspiration is ignited when learning about people throughout the world as her family and friends travel abroad.
"To travel is to experience, to learn. A lot of my artwork is from the 'caveman days.' Emotion is expressed through all different colors. Even the colors have a meaning and to learn this-it's helping me grow as a person. I love it. I sit there for hours. I have my girls come in at three in the morning and I'm still working, and I say 'I'm not tired,'" she said. "It's a lifetime commitment."
Lohnes explained that through her exploration into other cultures, she reads extensively to confirm that her use of symbolism is appropriate. "I research to make sure I'm not insulting, offending or using something that is too sacred," she said.
In addition to leather shirts, Lohnes beads dresses, moccasins, belts, purses, earrings and bracelets. The leather she uses also holds special meaning in that many of the hides were gifts from friends throughout the U.S.
In addition to the Leupp market, and Flagstaff shows, Lohnes also has work on display at the Del Rio Gallery in Flagstaff and takes personal orders. To contact Lohnes call (928) 386-3764.
The Native American Art Exhibition will run through August 4 and include, among others, Baje Whitethorne, Sr. - painting; Michael Kabotie - painting and sculpture; Don Whitesinger - painting; Elizabeth Whitethorne Benally - painted wood and gourd sculptures; Jeremy Singer - painting; Arnold Katoney - painting; Lisa Chavez Thomas - mixed media gourd sculptures; Kenneth Young - photography; W.B. Franklin - painting; and Marvin Toya - Alabaster carved sculpture.
To learn more about the Native American Art Exhibition visit www.culturalpartners.org or call (928) 779-2300.