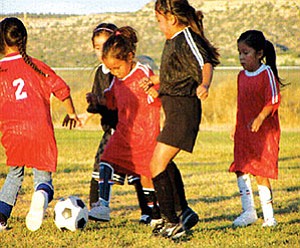 Originally Published: July 25, 2007 10:43 a.m.
This summer's Hopi Youth Soccer Program kicked off with a bang on July 3 by helping kids be active in a fun, cooperative, and new way. The Hopi Youth Soccer Program is sponsored by the America Youth Soccer Organization (AYSO) and the Health Promotion/Disease Prevention (HP/DP) Department at HHCC and runs until Aug. 11. The program focuses on enthusiasm and sportsmanship between players and parent involvement in their child(ren)'s activities. Through this objective all children get an equal amount of time on the field, regardless of their respective age, gender or skill level.
The program began at Hopi in 2005 through a partnership between HHCC's HP/DP department and Tuba City's long-standing youth soccer program. HHCC pursued this project because soccer is a fun and simple way for children of all ages and athletic skill levels to remain active in the summer months when not many other activities are available to them. By beginning to lead an active lifestyle at an early age, it is the hope of HP/DP and other health care center staff that children will continue to carry these healthy habits with them when they are older, preventing them from developing chronic diseases like obesity, diabetes, and heart disease in adulthood.
Samantha Lee, HP/DP program assistant and coordinator of this year's Hopi Youth Soccer League, feels that the program is a healthy bonding experience for the whole family.
"It's a great way to get parents out there and involved with their kids," she said, citing many other community events where children are dropped off with little to no parent participation.
Registration for the program ended July 6 with a total of 42 children signed up. The only items children need to participate are shin guards (provided by HHCC), a T-shirt, shorts and running shoes. Parents or guardians of the participating children are responsible for transporting their child(ren) to and from practices and games by 5:45 p.m. and staying to observe their child throughout practice and game times.
Hopi Youth Soccer is open to children from 4-12 years old and teams play within and amongst their age groups. Practice is held every Tuesday at 6 p.m. at the HHCC Field in front of the emergency room department.
Games take place every Thursday at 6 p.m. at the Hopi Jr./Sr. High School football field. The program is entirely run by HP/DP staff and community volunteers, many of whom are parents of the participating children. Volunteer positions are available in coaching, refereeing, set up and clean up, water station management, parking organization, award organization, parent advocacy and equipment management.
Applications in these areas are available at the HP/DP Department at HHCC. Anyone with questions regarding Hopi Youth Soccer can contact Samantha Lee at (928) 737-6375.