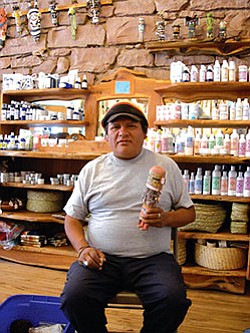 Originally Published: July 17, 2007 1:38 p.m.
FLAGSTAFF - Thirteen years ago Phyllis Hogan, the owner and operator of Winter Sun Trading Post in historic downtown Flagstaff, invited Manuel Denet Chavarria to a one-man show featuring his New Traditional kachina carvings. She put up the show in conjunction with the Northern Arizona Museum's Hopi Days to promote younger artists looking to return to older-style kachina dolls.
"At that time, there were only a few artists who were carving the old style dolls," Hogan said.
Manfred Susunkewa is credited for the movement towards the older-style doll back in the mid- to late 1970s, though there were a handful of carvers who still leaned in that direction. Philbert Honanie, Spike Satala, Nate Lomatewama, Wayland Namingha Jr. and James Poley, among others, were also very influential in the New Traditional movement-recognized as a distinct style.
"I felt it was important to support this form because I saw this renaissance of younger carvers who were not necessarily focused on carving for tourists, but who were dedicated to a return to tradition," Hogan said. "I loved this style-I liked the softer natural pigment colors, the simplicity of form, and that you could hang them on the wall. I feel they are more assessable than the contemporary action figures that sit up on a shelf. I can take them down; customers, friends and their children can hold them. I believe that the kachina doll is about more than just a collector's item."
This year's event was the first to span 10 days to also encompass the First Friday Art Walk on July 6-and carvers Jonah Hill, Larry Melendez and Bendrew Atokuku were on hand to present their work and that of other carvers.
Melendez and his brother, Chavarria, learned about the old style carvings originally through personal research.
"There were not a lot of older men that we could work with," Melendez said. "But we did a lot of research. We learned a lot from the Goldwater Collection of the Heard Museum."
This process led them first to form, and then to color.
"We started out with clowns because we first figured out black and white."
Melendez concurs with Hogan that the old style kachina doll is more functional.
"They are more like the dolls a child would receive at the Hopi dances. They are not elaborate-they are simple in form," Melendez explained. "These are teaching tools before art. They are tools to teach the way of life-the lifestyle of Hopi. They educate, they discipline, they give us guidelines."
Melendez tends not to include every detail that might be present on a carving to be presented to a Hopi child-out of respect for the Hopi culture and the elders.
Melendez would advise future carvers to stick to their desire to do the work.
"Don't give up," Melendez said. "It gets hard, and there is a lot of competition. Make your art your signature. Develop a style that stands out. Work with other artists and be persistent."
Melendez said that he feels a persistent loyalty to the Winter Sun show.
"There is a value to loyalty beyond money," Melendez said. "It's one hand washing another."
Carving has given Melendez another gift of great value-the ability to stay home and watch his daughters grow.
"Our roles were switched," Melendez said with his characteristic smile. "My wife goes outside the home to work, and I get to stay home. My children are the most important thing in my life. They are my shrine, they are what is sacred."
Melendez explained that a Hopi man is responsible for what is happening in his family, in his clan, and in his community.
"We are our children's first teachers and we must carry on a positive example. As a parent, my life no longer belongs to me."
Melendez is proud that Hopi is one of the last Native American tribes not to have developed what he calls a "casino culture." When he hears about the good life that other tribal members are living thanks to the presence of a casino, he takes it with a grain of salt.
"It isn't always a good thing to give a huge amount of money to a child from a reservation/third world country," Melendez said, referring to the social ills also associated with casinos. "Sometimes you can kill someone with too much kindness."
Bendrew Atokuku, a young carver from Songoopavi, has been absent from the past few Winter Sun shows, but returned this year with a great deal more experience and skill.
"Carving is an everyday thing for me," Atokuku said. "My style has improved. I've seen some of the Katsinas that I did before, and I can see that I've become a lot more detailed. My painting has improved. Practice makes perfect I guess," he added with a smile.
His hard work has paid off. His carvings are now featured in the galleries and private collections of individuals in Japan, England, Germany, Switzerland and the Netherlands.
Atokuku recounts memories of the visits of the Katsinam to the Hopi villages, and how seeing them helped define his life. He describes his relationship to the Katsina dolls he creates as similar to that one would have with a child-one of care and love.
"My father taught me that Katsina means 'life of our fathers,'" Atokuku said. "They are the fathers of our lives."
Atokuku, now in his early 30s, began carving when he was 13 years old. By the time he'd reached 18, he was working in the old style.
"There was Philbert (Honanie, Hotevilla) and Bertram (Tsavadawa, Old Oraibi), the first of my good friends, who introduced me to the old style. I carved out my first doll, and it took over my soul. Learning Hopi ways and tradition reminds us that this is what we were born to do, to live as a Hopi. We are set apart from other tribes. I've seen other tribes doing their thing, and losing it to technology. We, as Hopi, try to coexist with technology and modern ways. Yes, we need education, but we need to come back to Hopi.
When asked what he believed is the biggest threat to Hopi survival, Atokuku named the growing loss of the Hopi language among younger people.
"Myself, I am still learning the language, and how to say things in a certain way," Atokuku said. "A lot of elders, when they leave, they take their knowledge with them, but luckily there are men out there teaching."
Atokuku credited the Cultural Preservation Office with visiting schools both on and off the Hopi reservation to help teach urban youth Hopi language and culture.
Atokuku agrees that craftwork such as Katsina carving is important to the Hopi economy, especially following the closure of the Black Mesa Mine.
"Despite the loss of Peabody's funding, services are still available. We can survive. In my village, about half of the people are self employed. They are out there trying to put up their own galleries."
Unlike Melendez, Atokuku is all for a casino, especially if located at a border area.
"A casino would provide employment for people," Atokuku pointed out. "It would provide funding for people who need education and scholarships. It would be nice to have a Bahsa's here, or mini-outlets. A lot of our Hopi people are leaving to find jobs, and that is not good for Hopi. The high gas prices mean that people pay more to travel long distances to go home. I'm all for business so that Hopi people no longer have to leave the reservation. That's not good for Hopi either."