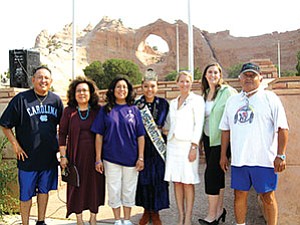 Originally Published: July 17, 2007 1:31 p.m.
WINDOW ROCK-Navajo Nation First Lady Vikki Shirley joined Walking the Healing Path Project founder John Tsosie on Monday, July 9 to help launch the 2007 campaign to help fight domestic violence across Navajoland.
"Walking the Healing Path 2007" is a five-week trek encircling the Navajo Nation with the goal of educating individuals and communities along the way about the epidemic of domestic violence and its impacts on victims, families, communities, law enforcement and social service agencies that deal with it.
Along the way, organizers will give presentations at chapter houses, coffee shops and offices to educate people about this continuing problem.
On Tuesday, walkers arrived at Ganado in need of more volunteers and contributions of water and financial donations for the supply vehicle. They encourage people to join the walk for as long as they can, even if it's for a few hours.
"This is a very important issue that we are fighting against," Mrs. Shirley told a morning gathering at Veteran's Park. "We're fighting against this domestic violence."
She said Navajo people have teachings about the roles of men and women, fathers and mothers, and that every Navajo grows up learning the importance of mothers and family within the cultural setting.
"As Navajos, as Diné, we're told that we are part holy ourselves," she said. "With our teaching being like that, we are always very hurt, we feel for those in the domestic violence situations. Our wish is that there is no domestic violence on the Navajo Nation. That is what we stand for and that is what our fight is for."
She said everyone is touched by domestic violence rather than just the victims.
"We're all fighting against that, and we're all on the same side," she said. "We do need to work together, to stand together, and fight this crime of domestic violence. Please do not hurt women and children and elderly."
Arizona Sen. Albert Hale said the concern is not limited to domestic violence but includes domestic disharmony as well.
"As Navajos, we're always taught that the family is the most important," he said. "We have families who are struggling. We have families who have struggled for a long time. And we have families who have been afflicted with this problem, and it's inter-generational as we all know."
Miss Navajo Nation 2006-2007 Jocelyn Billy said that in her travels across Navajoland she sees that there are now families who are well off and families who continue to struggle to make ends meet. What they share in common, she said, is their susceptibility to the scourge of domestic violence.
"Just like every other drug that is plaguing our Nation, just like every other social ill that is devouring our people, domestic violence has no lines, it has no criteria," she said. "It exists. It exists with the people who have the highest teachings, who have the highest education, who have the highest values."
She urged her listeners to remember that modeling behavior is what teaches children, whether for good or for bad.
"We are the ones teaching our children," she said. "Every footstep that is taken, should be taken with a prayer."
Cora Maxx-Phillips, director of the Navajo Nation Division of Social Services, asked that people remember the difficult work performed by social workers who are among the first to see the effects of domestic violence and are the people who work to repair broken lives and make them better.
"The social workers play a vital role," she said. "They're the beacon of light for the people out there sometimes that feel like there's no tomorrow, there's no more hope."
Christy Moore, executive director for the Arizona Coalition Against Domestic Violence, thanked the organizers of the Walk, saying that awareness, prevention and education are crucial components to ending domestic violence.
"This event will bring the issue of domestic violence to the forefront," she said. "It will encourage our youth to stop the cycle of domestic violence and increase our communities' understanding of the devastating effects of domestic violence and the importance of addressing this social epidemic."
She said a deeper understanding of domestic violence teaches that it's a crime not limited to the family setting but reaches into many other aspects of daily life and institutions.
"Domestic violence is not a family issue. It's a community issue and it impacts us all," she said. "It impacts our law enforcement. It impacts our schools. It impacts our local businesses, just to name a few entities. It has scarred our grandmothers, our mothers, our sisters and our daughters, and it must stop."
She said everyone can help fight domestic violence simply by educating oneself, volunteering at a shelter, making a financial contribution, encouraging systematic changes and by listening to victims.
Alisa Roadcup, the Stop Violence Against Women Campaign coordinator for Amnesty International USA, discussed the recent Amnesty International report, "Maze of Injustice: The Failure to Protect Indigenous Women From Sexual Violence in the USA."
She said it documented how Native American and Alaska Native women are disproportionally the victims of sexual violence, and are often discriminated against by state agencies that are supposed to investigate these crimes.
"When a state fails to act with sufficient diligence in responding to sexual violence against women, this violates women's rights with equality before the law," she said.
In one instance in Alaska, she said, state investigators flew to a remote village to investigate out-of-season moose hunting but declined to investigate the rape of a Native women. She said that's a violation of native women's rights when they are denied justice.
"Sexual violence against indigenous women in the USA is widespread, and especially brutal," she said. "According to U.S. government statistics, Native American and Alaska Native women are 2.5 time more likely to be raped or sexually assaulted than other women in the USA."
For information on the route and arrivals at communities, go to walkingthehealingpath.org.