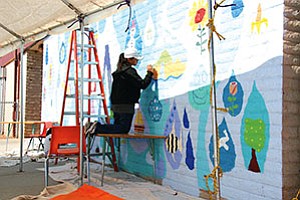 Originally Published: July 17, 2007 2:35 p.m.
TUBA CITY-Born and raised in Latvia, Larisa Aukon has already had her hand in Arizona school sponsored mural work.
Aukon has worked as the artist-in-residence at Killip School in Flagstaff for the past three years, completed a project at DeMiquel School in 2001, making a total of eight large murals for the Flagstaff Unified School District and is now at Tuba City District's Eagle's Nest Intermediate School (ENIS) finalizing the second of two student murals on the library wall and also on the front office administration wing at ENIS, which will be one of three Aukon commissioned murals for the Tuba City Unified School District.
Aukon, originally was just a visitor to Flagstaff in 1996, doing piece art work. She met her husband then and has since come back to stay permanently in this intimate college town.
While most artists would see such a big art canvas like an entire concrete building wall as fear-inducing, Aukon sees it as a challenge to creative sensibilities and a way for students to visualize much larger scale imagination painting possibilities.
In her original country, Aukon says that "art is considered a very prestigious and honored profession."
"There is a great power and education in nonverbal communication and children are very open to that and I find that Native students are especially gifted in visual learning and interpretation. This talent coupled along with their strong sense of cultural and tribal history will make an outstanding project [for the] Tuba City District."
Along with the creative aspect of the mural creation, the students learn much about pre-planning such a large project.
Aukon stresses to her mural intern students that "you can throw away mistakes that are on small pieces of paper, but you can't on a large, concrete wall, so careful planning and thought are very, very important."
ENIS students planned and painted it under Aukon's supervision.
Funding for the mural project at TCUSD was shared with support from the Coconino County Arts Initiative and investment money from TCUSD.