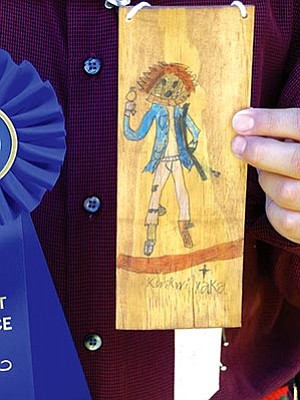 Originally Published: July 10, 2007 3:23 p.m.
Jared Brock, age eight, took first place at this year's Hopi Show's Youth Category for Fine Art. His piece entitled, "Mocking Kachina" is a colored pencil drawing on stained bass wood and is about 2.5 inches by 5.5 inches. The drawing is very intricate and shows the artist's attention to details.
Brock is a fourth generation artist. His mother is Lillian Yaiva of Hotevilla Village, who was an award winning Third Mesa style wicker plaque maker. He has a majority of inspiration from his mother, Joni Yaiva, a photographer, quilter and slip cast ceramic artist, grandmother, Sadie Francher, and his grandfather, Davis Yaiva. His family, who openly encourage him to pursue his passion for drawing and creative expression are very pleased with his new endeavors. He has also gotten encouragement from his extended family, like Melvin Yaiva, and the late Merrill Yaiva.
"He has been drawing since he could hold a pencil," quipped his mother, Joni Yaiva, "He sold his first little drawings up at Crow Canyon Archeological Center in Cortez, NM. He was really excited about that. We want him to explore other art forms, and are happy that he is so expressive with his talents."
Brock has recently been taking summer art classes from Raquel Rotnes, who teaches self expression through art via Art From The Heart, a local program in the Flagstaff area. He has been actively drawing kachinas, still life interpretations, and exploring acrylic painting and throwing pottery on a wheel in the past year.
For more information about Brock's art pieces, or for ordering information, please email any inquiries to yaivaj@yahoo.com.