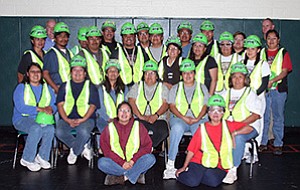 Originally Published: July 5, 2007 12:21 p.m.
TUBA CITY-Taking the safety of student and staff lives seriously is one of the main priorities of TCUSD Safety Officer Reggie Curry.
To make sure that staff and team community members of the local CERT (Community Emergency Response Team) are prepared appropriately for emergencies in Tuba City and the Hopi villages of Upper Moencopi and Lower Mungapi, there is an ongoing educational training process supported between Curry and his partner at the Tuba City Hospital, Shirley Peaches.
Curry and Peaches organize CERT training and other critical safety services for first responders to emergency situations in Tuba City and surrounding Hopi communities by bringing professional trainers in emergency services. Trainers provide opportunities on learning how to effectively and efficiently deal with providing immediate assistance to community members.
This past month, Curry and Peaches arranged to have Gerry Blair, Coconino County service coordinator and Coconino County Sheriff Bill Pribil conduct an intensive three-day CERT training at the Warrior Pavilion.
CERT members who have successfully completed such formal training then become part of the federal governments's Citizen's Corps program.
The final goal of CERT is to have citizens participate in making their communities better prepared for dealing with different types of disasters. People in the community who go through CERT training have a better understanding of the potential threats to their private homes, their workplaces, and their communities and how to take the right steps to lessen the effects of the potentially dangerous hazards.
In addition to disaster preparedness training, CERT members receive training on how to provide support to family, neighbors, and responders following a disaster. CERT teams are usually sponsored by law enforcement or fire agencies.
The Coconino County Sheriff's Office partners with the Coconino County Emergency Management, the Flagstaff Police Department and local fire departments to sponsor CERT classes. The total program is 20 hours long.
Formal CERT teams in northern Arizona are now located in Pinewood County, Forest Lakes County, Parks County, Tuba City and the Sunnyside neighborhood in Flagstaff.
A total of 56 community members in the Tuba City and Moencopi areas have received CERT training.
Newly certified reservation area CERT personnel include: Wanda MacDonald, Chester Whiterock Sr., Willette Edwards, Velia Yazzie, Rita Begay, Leona John, Pollie K. Lewis, Robert Yazzie, Earl Blackhair, David Jensen, Michael Talahytewa, Herman Butler, Delores Succo, Shirley Peaches, Joann Huskin, Jeremiah Begaye, Tawnia Gray-Troglia, Duane Hemstreet, Juanita Tso, Nina Brown, Betty J. John, Sarah F. Nez, Cherelynn Manson, Reggie Curry and Duane S. Tsinigine.
For more information, call Reggie Curry at (928) 283-1144 or Shirley Peaches at (928) 283-2802.