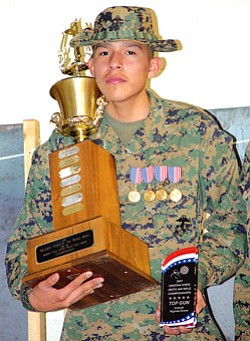 Originally Published: January 30, 2007 6:25 p.m.
TUBA CITY-In a tight contest at the Ben Avery Shooting Range in Phoenix on Jan. 20, Tuba City High School's (TCHS) award-winning Marine JROTC came away as 2007 State Champions in the Sharpshooting Competition for a second time.
Darrell Robbins of the Tuba City High MJROTC program took the top honor of Overall Individual State Champion. Instructors for the accomplished Tuba City High School MJROTC Program are First Sargeant Kenneth Bustamante and Gunnery Sgt. Timothy Shaner.
TCHS competed against 10 other non-reservation area public schools from three regions: East-West, Metro Region and Southern Region, which is the shooting category Tuba City falls under.
Tuba City won the Southern Region competition for the fourth consecutive year. Westview won the East-West Region, and Alhambra won the Metro Region.
The final results after the Jan 20 competition were: Tuba City High School (2082), Flowing Wells High School (2032), Alhambra High (2029), Trevor Browne High (2021), Maryvale High (2020), Buena High School (1823), Apache Junction High (1796), Westview High (1744), Mesquite (1688), and Marcos De Niza High (1639).
The overall Arizona State Champion was from Tuba City High School, Darrell Robbins. Coming in behind Darrell Robbins, also from Tuba City High were: Ashley Manygoats (6th place), Darrin Talawepi (6th place), and Charles Lee (3rd place). Individual award winners were Darrell Robbins, 1st place Individual, 3rd place Prone, 1st place Standing; Ashley Manygoats, 3rd place Standing, 2nd place Kneeling; and Darrin Talawepi, 1st place Kneeling.
Gary Anderson who is in charge of the CMP (Civilian Marksmanship Program) is a big supporter of the junior shooting of the competition and is also a gold medalist of both the 1964 and 1968 Olympics.
Anderson claimed seven world championships and set six individual world records and was inducted into the United States Olympic Hall of Fame.
He says he is proud not only to know where Tuba City High School is, but is very proud to know each of the four students who have taken the competition by storm this year, personally and by name.
For more information about the State Championship winning MJROTC Program at Tuba City Unified School District, call the Tuba City District Office of Public Relations, at 928-283-1072.
More like this story