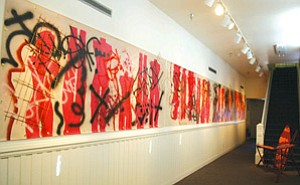 Originally Published: January 30, 2007 6:33 p.m.
FLAGSTAFF-Three new exhibitions at the Northern Arizona University Art Museum are united by the use of the human form. "Forgotten Girls," "Christina Y. Smith" and "Fragmented Vision" are on display until Feb. 2.
"Forgotten Girls" features the work of Arizona sisters Jill Renee Smith and Deborah South. Pieces in the exhibit are made of mixed-media assemblages and paintings. They were created to raise public awareness of the horrors of women's slave trade for sexual exploitation throughout the world, providing a sensitive approach to a violent situation. Profits from this project will go to non-governmental agencies working toward the prevention, rescue, rehabilitation and reintegration of trafficked victims.
Christina Y. Smith, a California metalsmith, exhibits her finely crafted sterling silver vessels and jewelry. The pieces are a social and political commentary, making use of common household objects such as chairs and baseball bats in conjunction with figure cut outs.
"Fragmented Vision" features the work of Utah sculptors Brian Christensen and Bryon Draper. Christensen and Draper rely on the fragmented object or figure to inspire their creation or compel the viewer to mentally complete their images.
The exhibits run until Feb. 2. A closing reception with the artists will be held from 7-9 p.m., Friday, Feb. 2 at the NAU Art Museum.
The NAU Art Museum is open from 10 a.m.- 4:30 p.m. Monday through Friday and 10 a.m.-3 p.m. Saturdays. The museum also features a unique store featuring local artists. For information, call (928) 523-3471.
More like this story