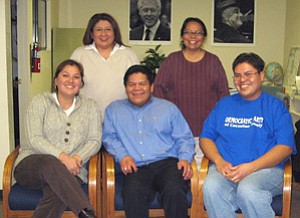 Originally Published: January 16, 2007 12:02 p.m.
FLAGSTAFF-The Native American Democrats of Northern Arizona (NADNA), a recognized organization of the Coconino County Democratic Party, selected its officers on Wednesday, Jan. 9 during a meeting held at the Coconino County Democratic Party's headquarters in downtown Flagstaff. NADNA is now ready to officially begin their work across the nations in Indian Country.
Winona Reid was selected as the new NADNA chairwoman. The new vice-chair is Anslem Yazzie, secretary is Christina Carr, members-at-large include Joshua Lavar Butler and Genevieve Begay. NADNA is currently searching for a treasurer and there is currently a vacancy for another executive committee member which needs to be filled as soon as possible.
NADNA members are very excited and have already begun brainstorming about ways to increase outreach to recruit new members. NADNA will plan events that will encompass their mission to raise political and civic consciousness of Native American issues while preserving the cultural heritage of all indigenous people.
NADNA strives to increase political participation across Indian Country by increasing voter registration and escalating their outreach efforts.
NADNA also plans to identify and cultivate future leaders in Native American communities and to support individuals that harbor the desire to run for public office. NADNA will also identify issues of concern to Native Americans and to pursue solutions through the democratic process.
To become a member of NADNA, you must first be a member of a federally recognized tribe. Membership dues for first-time members are $10 and the annual membership renewal fee is $10. New members also have the option to have their dues waived if they are unable to pay the membership fee.
"We don't want to lose potential members, just because they don't have $10.00 to pay," said Reid. "We want to be able to attract as many members as we possibly can, so that we can be a huge force in 2008. The whole idea is participation."
The next NADNA meeting is slated for Jan. 17 and meetings will be held every other week until the organization is in full swing. Future meeting dates include: Jan. 31, Feb. 7 and Feb. 28. The meetings are scheduled from 5:30 to 6:30 p.m. and the meeting locations will be announced.
NADNA plans to attend the State Committee meeting which is being hosted by the Arizona Democratic Party and is scheduled for Jan. 20 in Phoenix. NADNA will be represented by their delegation and will give a speech to officially announce their creation.
For more information about NADNA, please e-mail Josh Butler at joshualavarbutler@yahoo.com