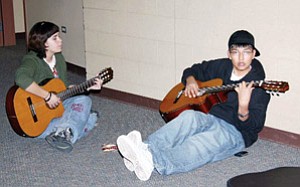 Originally Published: January 2, 2007 5:23 p.m.
TUBA CITY - It was a harmonious blend of contemporary and classical music as Blair Quamahongnewa, TCHS music teacher, presented a special winter concert at the new classroom building lecture hall on Dec. 19.
Parents and community members were treated to a special musical evening, which also featured two of Quamahongnewa's more advanced guitar students.
Music students Jordan Adison, Wacey Barlow, Ashley Brown, Katrina Charley, Donna Dayzie, Aaron Goldtooth, Christopher Goldtooth, Bradley Hatathlie, Loveleen Hurley, Kori Max, Dimitra Sam, Tyson Tsinigine, Courtland Willie, Toby Woody and Crystal Yazzie were in perfect unison in presenting their musical selections, which included pieces from Paul Jennings, John Zdecklick, Ralph Hermann and John Hopkins.
For more information about the TCHS music program, call the Tuba City Office of Public Relations at (928) 283-1072.