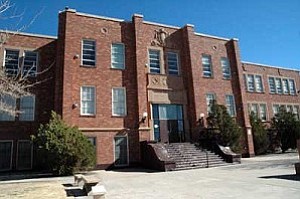 Originally Published: February 27, 2007 4 a.m.
The ornate orb above on "Old Main" or the old Winslow High School, has looked west across Winslow for 78 years now, but some fear that if the City does not act to save it then that sphere of Winslow's history will eventually be lost. Others say it is not the City's job to save old buildings though this did not stop Council before when being in full support of taking over responsibility of the Rasco building.
"Great buildings are torn down every day because people say 'it's not my responsibility.'  I think it is our responsibility in city government to at least try to save our most beautiful landmarks and in Winslow that includes Old Main," Winslow Mayor Alan Affeldt said.  
In 2005, Winslow Unified School District once placed the three-story Old Main property on Ebay for $150,000 to generate some outside interest. The district decided not to sell at the time because they either did not agree with the interested buyers' proposed use or they did not want educational programs in there that would be competitive to the district.
The question of what to do with Old Main has been up in the air ever since the school district abandoned it. Many ideas have been proposed, but the school district is cautious about who they give or sell it to because of its significance to the many alumni who have fond memories of that historic structure.
Dodie Montoya, a WUSD board member and graduate from the old Winslow High School, said it has been a dream of hers to see Old Main saved by being used to some public good like a library or community center.
"It is such a wonderful building that it needs to be used for some community purpose and a library would be perfect because it is so close to the schools," she said.
It is generally understood that the Winslow Public Library will eventually need to expand for the benefit of the local community the question has risen as to where it should go.
One possible idea was to incorporate a new library into the old Basha's/Yellowfront shopping center on Third Street, which was intended to be the New Municipal Complex. Council toured this empty facility in October 2006.
In 2003, the City purchased the shopping plaza from the Winslow Memorial Hospital board for $250,000 to help bail the board out of debt that had been accrued under the previous hospital administration. According to Winslow Mail articles of the time, it had been the plan of former City Administrator John Roche, to combine all City facilities into one. Some of the Winslow Police Department and dispatch now occupy the middle of the complex, and as of recently, were just allocated the eastern half as well.
When Council toured the New Municipal Complex and police department months ago, they discussed finding use for the rest of the space like having a new city hall, council chambers, library, etc.
Councilwoman Sue Bumpus and Councilman Robin Boyd recalled that during the October tour there was discussion about the feasibility of Old Main being a site for the library; whereby, a tour for Council was to be scheduled for that consideration. An Old Main tour and discussion never materialized since direction was not formally given to the city administrator.
This came up again before City Council when Mayor Affeldt proposed that Council at least consider some options and look into ways to save Old Main.
In a letter to the mayor, WUSD Superintendent Bob Mansell explained the peculiarity of the district's ownership of the Old High School. The building of the current new high school prohibits the district's use of the old school because of legislative/funding issues, making it impossible for the district to receive any funding for maintenance or remodeling.
"Although the building is in remarkable condition, we are seeing the start of deterioration that will lead to the destruction of the building," Mansell wrote.
Built in 1929, Old Main is a subject of pride for many Winslow residents. It was designed by a fairly renowned civic architect of the day, Henry Trost.
"Old Main means much to many people," said Lila Atkins, director of the Old Trails Museum. "As someone who graduated from, and later worked in that building, I would love to see it saved."
Considering the district's predicament and Old Main's historical significance, Mayor Affeldt is confident the City and school district can come together with a beneficial arrangement to save Old Main, so he made the proposal to Council.
His proposal was not a commitment of any sort, but only to formally show intent that the City is interested in working with the school board to save Old Main if the following conditions can be met: 1. An appropriate municipal use can be found that the district agrees with, such as a library. 2. Appropriate terms can be negotiated with the school district. 3. That there is reasonable community support for such a project, and 4. A financial mechanism for rehabilitating the building can be established.
Councilwoman Stephanie Lugo gave a prepared speech against Mayor Affeldt's proposal that stated the City should not take on the responsibility to save Old Main, and that Council should focus more on funding the police, roads, sidewalks and the fire department that is looking to buy a ladder truck.
"As of our meeting on Oct. 10, we voted on and passed unanimously to continue to evaluate the possible relocation of the library and the rest of the police force," Lugo said. "We already own a building that cost us $250,000, not to mention what has already been spent on it."
The Oct. 10 council meeting audio record holds no evidence of a vote or decision on the matter, except that Mayor Affeldt directed City staff to meet with the librarian to discuss the feasibility of the library going into the New Municipal Complex next to the police station and then for staff come back to Council to discuss Old Main as an option.
City Finance Director Gina Reffner said that well over one million dollars has been spent on the New Municipal Complex. This includes the purchase, equipment and renovation to the project. Most of this work has been done for the police department where grant money paid for almost $400,000 of it. So far, there has been no formal decision or renovations to this building for any other use.
Councilman Harold Soehner brought up his concerns with Affeldt's proposal and said the state might ban public and educational use of Old Main; however, this is a restriction on the district, not the City.
Superintendent Mansell said that if the Head Start program and especially a library would be an agreeable use for Old Main, where the district would like to work with the City.
Soehner said that he would like to see Old Main saved, except that he did not believe that the city of Winslow should be the caretaker of the old historic buildings in Winslow. He also said there are many issues with asbestos, mold and handicap access.
"There will be many soft cost issues by directing City staff to commit a few hours to look into engineering studies and abatement," Soehner said. "I'm not sure that the mayor's position is the one that coordinates addressing those issues."
City Administrator Jim Ferguson told Council that he has seen this type of new library location battle fought in other cities.
"I fought a library board that did not want it in an old building," Ferguson said. "I fought a Council that did not want it in an old building. So they built a new library, then 20 years later they went back and put it in that same old building."
Ferguson said that the other city had much more money to work with and that he was not sure what sort of resources the city of Winslow even has to move towards a getting a new library.
"This does not mean we cannot look for resources," he said. "The best thing to do would be to first get an understanding of what the community wants."
One subject Mayor Affeldt has continually brought up to Council is that no matter what the choice is, there is no money yet set aside or acquired through grants to pay for such a project. This could be a topic for Strategic Planning in March, when Council will be looking for input from the community.
When it comes to grants as a potential source of funding, Old Main would be in a much more preferable situation, especially if it was placed on the historic register, then it would qualify for the State Historic Preservation Heritage Fund.
Winslow resident Marie LaMar told to Council that when it came time to do something to try and save La Posada years ago, pillars of the community said it could not be done and did not want to get involved.
"This is a similar situation with Old Main and support can be found," she said. "With all the alumni who graduated from Old Main, there are surely graduates who would respond to an effort to save Old Main."
LaMar was one of the organizers of the All Alumni Class Reunion in 2000 that drew in over 1,000 people from Old Winslow High School graduated classes, who came in from all over the country to come together and celebrate their Winslow pride. She said their attendance that year is proof that there is a large population of successful people who could get behind a movement to save Old Main.
"You cannot win a race if you do not try to run and it begins with one step at a time," she said.
Mayor Affeldt assured the Council that he was not trying committing the City to anything, and that he only wanted to spend some time at least exploring the possibility and cost of find a use to save Old Main.
"Sure it will take effort, but lots of cities have saved their old schools. They made an effort!" Affeldt said. "To fail Old Main without trying is easy but cowardly. I am willing to donate my time and proven experience. You want a more beautiful and prosperous Winslow? Then join those of us with energy and a record of success and let's keep fixing up the town! Old Main should be an asset to Winslow, not another abandoned building or vacant lot. We can do this, and together we will!"
Council voted 4 to 3 in favor of directing staff to work with the school district to look into the feasibility of finding an appropriate use, community support and possible funding sources to rehabilitate Old Main. Councilman Peter Cake, Soehner and Lugo voted no.