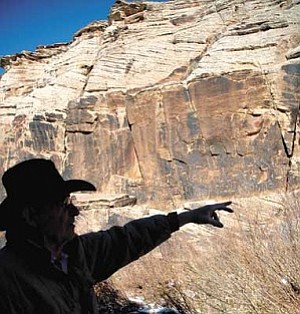 Originally Published: February 21, 2007 4 a.m.
Up on the sloping plains of the Little Colorado River Valley, south of Joseph City, right as the scrubby grasslands give way to the junipers, ranchlands of the Hopi, Aja and McCauley's, comes-up against Chevelon Canyon and the Rock Art Ranch.
"This truly is God's country," said a woman from West Virginia, who was looking out over the geologic rift of Chevelon Creek that tears through the flat land above.
"Surprisingly, most visitors who come through here on their way to places like the Grand Canyon, always end up telling us that coming here was the highlight of their trip," said Brantley Baird.
Baird moved onto the cattle outfit in 1945 and opened Rock Art Ranch in the early 1990s with Clim Rogers, a life-long cattleman from the area who is now in his 80s, can still get up and ride better than most.
Still a working cattle outfit, Rock Art Ranch has many things of interest related to ancient Native American culture, and cattle and pioneer history.
Baird said many the visitors he sees are referred from La Posada. He said Allan Affeldt is a smart businessman who knows how to create an interest in this area, which really helps Winslow and the business at the ranch.
"Recently, Affeldt brought a whole group of people from the Getty Research Institute out here and they all fell in love with the area," Baird said.
Rock Art Ranch has a large dining hall decorated with ranch tools, saddles, old wagons, cow skulls and anything else western, and is available for holding private events in the warmer months.
The ranch also has a significant collection of Hisatsinom or Anasazi pots, mugs and spoons. Also on the property is the last remaining bunkhouse of the Hashknife Cattle Co.
"We get people from all over the world visiting here, but it is not really a place for kids since they are not into this kind of thing," Baird said.
He said that it seems the more kids come out there, the more damage they find, so they are careful about who they allow in.
On the way to the canyon by truck, Baird talked about how the cattle business is a dying industry and was never a path to fortune, though a cowboy can find affluence in the beauty of the land.
"It is a lifestyle," he said.
In one of the side canyons they call Chinle Canyon on the way to Chevelon, Baird pulled over near a hogan that stands as testament to the reality that "the West" was not the cowboys and Indians fiasco popular to the modern imagination.
When Baird came to the ranch in '45, he said he was approached by to Navajo men in their 80s. They told him that they used to play along this canyon when they were kids and would like to build a hogan there to live out their days.
Baird had no problem with it, and the two elders build a sturdy stone and mud hogan next to a small Hisatsinom ruin and what Baird said looked like an ancient livestock pen made from stone that encloses a natural rock formation.
Continuing on toward Chevelon Canyon, Baird reminds visitors that this area is highly sensitive to area tribes and often is visited by medicine men. The canyon is home to a great amount of petroglyphs that date back over 7000 years.
Chevelon Canyon at Rock Art Ranch has been placed on the State Register as a National Historic Site and area archeologists have studied this, as it is one of the most concentrated petroglyph areas in the southwest.
Rock Art is open year-round except on Sunday and holidays. It is located on Territorial Road, south between Winslow and Joseph City. For more information call (928) 288 ­ 3260. Reservations must be made in advance.