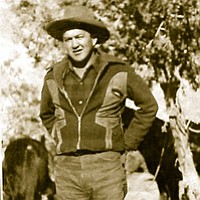 Originally Published: February 20, 2007 12:30 p.m.
Dear Shonto Community members and our relatives:
On behalf of our loving mother, Julia Bryant, we wanted to express our appreciation for your generous hearts, kindness, support and prayers during the recent passing of our father, Bob Bryant. 
We were deeply touched by the outpouring of love by both the relatives in our family and the Shonto community. 
Thank you for sharing precious memories and stories you had of our father, we will cherish them in our hearts forever.
Thank you for your food contributions, cash donations and assistance with the burial arrangements. 
Our hearts still ache and we find it difficult to be without dear father, but with your continued support, unconditional love and prayers, it helps to ease our pain.
We are grateful the Lord had blessed us with a father who cared, who had strong family values and had a strong faith in our heavenly Father. Thank you for caring.
A special thank you to Desert Memorial.
Sincerely,
Ella Bryant, Julia Bryant and family