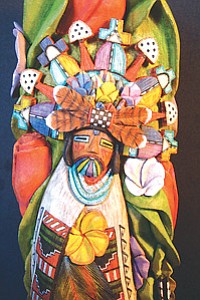 Originally Published: February 20, 2007 11:03 a.m.
PHOENIX-In preparation for their annual silent auction to be held from 6-9 p.m., Friday, March 2, the Hopi Education Endowment Fund (HEEF) received a one-of-a-kind special sculpture created specifically for their auction from renowned artist Aaron J. Fredericks.
Fredericks, from the village of Shungopavi, is a multiple winner at the Santa Fe Indian market, including Best of Classification for Pueblo Wooden Carvings, and chose the HEEF as the first-ever recipient of a donation of his work.
The donation, entitled "Fruits of Our Prayers " is made from a single piece of cottonwood. As a former recipient of educational financial assistance from the Hopi Tribe, Fredericks hopes the proceeds from the sale of the piece will benefit all Hopi students.
HEEF executive director LuAnn Leonard stated, "This piece...is significant as Aaron is an award-winning master carver who produces only about five pieces per year. Many thanks go to Aaron's wife Lynn (a teacher) and their sons Aiden and Gabriel for encouraging him to support the HEEF."
"Fruits of Our Prayers" will join the growing number of pieces from artists who have committed to donating for the silent auction. This includes more than 30 artists such as Delmar Polacca, Clark Tenakhongva, Duane Maktima, Buddy Tubinaghtewa, Val Kahe and Debbie Montoya, all who have donated for each of the HEEF's past silent auctions.
Leonard added, "We're grateful to those artists who have generously donated beautiful pieces to the event. Many have expressed that they are happy that their donations are not only helping to raise funds today, but that the funds raised through the sale of their donations will continue to help future generations."
HEEF Marketing and Special Events manager Sam Tenakhongva stated, "Through the high quality art that we receive from the donating artists, it makes our job easier to raise funds. Silent auction attendees see that Hopis are supporting Hopi, and that in part is what inspires them to purchase the pieces in addition to becoming donors to the HEEF."
He also added that the HEEF invites all to join them for their silent auction, which not only features art, but also refreshments and entertainment by Anita Poleahla, Ferrell Secakuku and Clan Destine.
It will also be an opportunity for the attendees to see "Fruits of Our Prayers" along with all the other donated pieces. Also, as part of the fundraising efforts, the HEEF is currently selling raffle tickets for prizes such as Pendleton blankets, jewelry, pottery, prints and baskets, with the winners to be drawn during the event.
The HEEF would like to thank the current 2007 sponsors which include: APS, Merrill Lynch, Walker & Armstrong, McGee's Indian Arts, CellularOne, Husk Partners, Canyon Records, Hopi Telecom Inc., Images & Words Printing & Graphics, and Cheap Clothes Shirt Co.
All funds raised during the silent auction are used to provide grants and scholarships to deserving Hopi students across the U.S. in addition to funding other educational programs of the Hopi Tribe. The HEEF is a non-profit entity of the Hopi Tribe; therefore, all artwork donations and sponsorships to the HEEF are tax-deductible. For more information about the silent auction or to purchase raffle tickets, contact the HEEF at 928-734-2275, via e-mail at heef8@aol.com, or visit their website at www.hopieducationfund.org.