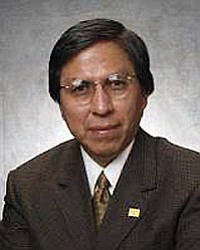 Originally Published: February 13, 2007 12:09 p.m.
WINDOW ROCK-Following a impressive 14-year career representing constituents in western New Mexico as a state senator, Sen. Leonard Tsosie decided to throw his hat into the ring for a position as a Councilman on the Navajo Nation Council. Tsosie was subsequently elected to the Navajo Nation Council in November of 2006 and sworn in to office Jan. 21.
Shortly after the election, however, members from throughout the Diné nation began to question the legality of Tsosie serving concurrently in both positions. Some reacted to Tsosie's dual roles by saying he was in violation of the Navajo election law, which states council delegates cannot serve in elected state or federal offices.
The issue was quickly taken to the Navajo Nation Supreme Court, and on Jan. 18, a ruling was issued instructing Tsosie to make a decision between the positions.
Tsosie turned to those he was elected to serve in the Pueble Pintado, Torreon, and Whitehorse Lake Chapters.
"A good majority of them said that I should take the position on Council," Tsosie explained Feb. 8 during a personal interview. "Of course it was a hard decision. In the end it had to do with meeting with my constituency. They advised me to take the position on the Council."
Tsosie described "... a 2002 law of the Navajo Nation states that Diné have the right to choose their own leaders. I think I could have been a bridge between the Council and the New Mexico legislature."
During a visit to the New Mexico Legislature in the first week of February, Tsosie said he felt odd since he was not able to initiate debates about issues that he felt needed to be argued.
"It was interesting being on the outside," he said. "I was waiting for someone to get up and debate the minimum wage issue... From here (referring to Window Rock) I kind of look to Santa Fe and wonder what's going on."
Tsosie said he will continue to work on four major projects from his current position.
The first is a $15.3 million project to bring an adequate supply of high quality drinking water to the people of Chaco Basin.
The second is called Internet to the Hogan.
This project entails bringing high-speed Internet connections to the Navajo Nation in New Mexico through a partnership with Navajo Technical College and the State. Tsosie said he foresees this project as a stepping stone for high-speed connections throughout the nation.
"What I hope will happen is that it will eventually happen in Arizona," he said.
He added this project is incredibly important to children and education. "It's the future. My main interest is the kids. I believe that you can really have a better society if you start with the kids," Tsosie explained.
This project lead him to discuss the third project entailing an intimate working relationship with the local school board.
"I'm looking at how we can work together for the benefit of the kids. I think we need to sit down and look at the [Annual Yearly Progress] scores and what we can do to improve them," Tsosie said.
Tsosie's fourth project of importance is to develop small businesses in the Navajo Nation. He said local stores of major importance and need to the people include livestock supply stores, small office supply stores, cafés and gas stations.
As alternative energy is quickly becoming a topic of concern, he also discussed the need for local technicians to repair and install solar panels and workings.
"We need to develop small Navajo entrepreneurship so when something goes wrong there's someone out there to take care of it," he said.
To learn more about Councilman Tsosie visit www.leonardtsosie.com.