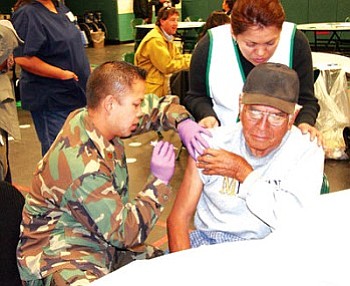 Originally Published: December 27, 2007 12:46 p.m.
TUBA CITY-Tuba City Unified School District with community partners, Tuba City Regional Health Care Corporation and Navajo Area Indian Health Services staged their annual Community Emergency Response Team community-wide disaster drill in conjunction with a real mass flu vaccination clinic at the TC High Warrior Pavilion Nov. 29.
The flu shot clinic originally planned for hours of 7 am to 12 noon was extended by a special request of Tuba City community members to1 p.m., thus allowing those of the Tuba City and Moencopi work force to get a free flu shot during their lunch hour.
The clinic gave flu shots to both adults and children in this mock staged event of an actual "pandemic" situation in a remote community while providing the CERT team members a chance to practice disaster skills acquired over the past few months in community emergency training given courtesy of Coconino County disaster preparedness experts.
A total of 278 shots were given in this six hour time frame utilizing a combined volunteer CERT crew of almost 45 which included medical health professionals.
At the final debriefing for the day's event, TCRHCC-CEO Joseph Elgenken along with Shirley Peaches, Safety Officer for TCRHCC and Ron Begay-Safety Officer for TCUSD, praised the overall day's event which went smoothly, efficiently, professionally.
The only area Engelken, Peaches and Begay felt that needed additional follow-up attention was more detailed communications relay-response. Radio signal was weak and slow from the Eubank Incident Center to its drill disaster center at the Warrior Pavilion.
Communications issues that will need fine tuning to cover a disaster of this size for Tuba City and Moencopi was primarily in the area of local radio-band frequencies used for this mock disaster.
Also that the number of hand held radios available for such a drill was far too few to cover an area in Tuba City-Moencopi in a real community disaster situation this size.
These deficiencies will be discussed at the next CERT meeting and will be alleviated to provide more effective and quicker response time from its team membership.
To get more information regarding the annual CERT Team events, or to find out more about community safety, call Shirley Peaches-Safety Officer for TCRHCC at (928) 283-2501 or Ron Begay-Safety Officer for TCUSD at (928) 283-1142.