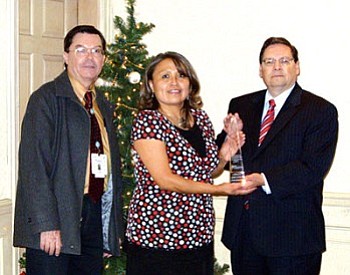 Originally Published: December 27, 2007 12:53 p.m.
TUBA CITY - The State Compensation Fund (SCF) Arizona insurance company, the State of Arizona's #1 provider of worker compensation insurance serving more than 56,000 business clients, has selected Tuba City Regional Health Care Corporation (TCRHCC) as one of their top 100 performers insured in Arizona.
Rick Jones, SCF President presented the award to Shirley Peaches, TCRHCC safety officer and Joseph Engelken, TCRHCC CEO on Dec. 13. Jones said, "Tuba City Regional Health Care Corporation has demonstrated efforts to keep employee areas safe and is a results-driven hospital. I congratulate you on this prestigious award."
Performance criteria for the award includes outstanding measures safeguarding employees in the workplace, excellent past and present history of low injuries on record, outstanding safety-risk management work, and high regards for an outstanding overall Safety program.
Margaret Penado, SCF Loss Control Consultant - AZ Northern Division nominated TCRHCC for the award and expressed her appreciation by saying; "I want to congratulate TCRHCC on sustaining a culture of safety and efficiency. Having an open system for employee safety empowerment at TCRHCC has directly impacted cost of insurance by saving money, creating revenue and also protecting employees in the process."
Recognition for the award is based on maintaining an overall loss ratio of 35 percent since 2004 and an experience modifier (E-mod) currently calculated at 0.78. The E-mod is an established rate used among other similar businesses to calculate a facilities insurance premium. SCF Arizona staff noted that in comparison, the average E-mod for all 56,000 clients served is at 1.00. Having a lower rate means TCRHCC is saving money with lower premium costs.
In accepting the award, Peaches expressed her gratitude, noting "This prestigious safety award is the TCRHCC employees' award, it demonstrates a team effort approach in maintaining a safe workplace for all employees and patients." Peaches added, "Safety is everyone's responsibility at TCRHCC and I congratulate all employees for their efforts."