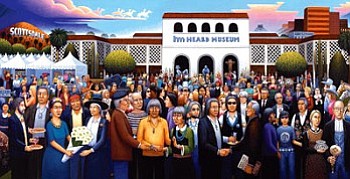 Originally Published: December 27, 2007 1:37 p.m.
PHOENIX-Join the Heard Museum as they kick off Arizona's largest and most prestigious Indian market in grand style. Celebrate the Heard Museum Guild Indian Fair and Market's 50th anniversary with an elegant evening reception on Thursday, Jan. 10.
The evening will include a historic photographic retrospective exhibition; an appearance by the Fair's signature artist David Bradley (Minnesota Chippewa); a live auction of Bradley's original artwork for the Fair; hearty hors d'oeuvres, complimentary wine and beverages; and live jazz music.
The celebration will also feature a silent auction of other Painted Pony Project artwork generously donated by more than 15 artists. This silent auction is a precursor to a special drawing for four additional two-foot Painted Pony creations during the Fair, which will benefit student art scholarships and art supply grants to tribal community schools.
The cost is just $25 per person, and advance reservations are required and limited. Make your reservations by Jan. 4. Checks or credit cards are accepted. Make your reservations online at www.heardguild.org or send a check made out to Heard Museum Guild to Joan Lloyd; 7004 E. Eagle Feather Road; Scottsdale, AZ; 85266.
For more information, call (480) 488-8209 or visit www.heard.org. Tickets will be held at the door for pickup.