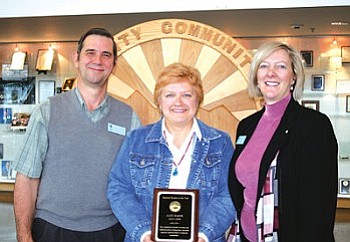 Originally Published: December 19, 2007 12:33 p.m.
FLAGSTAFF - With six national wrestling championship titles, Coconino Community College's accounting teacher Ed Knecht has proven he's a champion off the mats as well.
Knecht has been selected by students and faculty members as CCC's 2007 Teacher of the Year.
"I am humbled by the honor and thankful for the opportunity to work here at Coconino Community College," says Knecht. "CCC is a wonderful place. Everyone here including administrators, staff, faculty, and students are great to work with. It is nice to be part of the CCC family."
Comments from students include, "he is energized and helps students to be motivated;" "when I needed help, he was there and his explanations made sense;" and, "he is passionate about helping all learners."
Knecht has been teaching for 24 years, three at CCC. In the meantime he coaches wrestling and football at Flagstaff High School. He also maintains a tax accounting practice and a janitorial business.
"Ed settled into instruction quite smoothly here at CCC, bringing years of experience with him," said CCC Vice President of Academic Affairs Kathleen Corak. "It was immediately clear that he was adding great value to the classroom, the department and division. We are so fortunate to have him with us and greatly appreciate his many contributions."
Aside from his national championships, Knecht placed in the World Wrestling Championships three times and was a Big Sky Conference champion twice at Northern Arizona University. Most recently he won the USA National Masters Freestyle Wrestling Championship in 2004.
Knecht has a bachelor's degree in accounting and a master's degree in business.
Alice Baker goes the extra mile and then some to help students become teachers. She teaches early childhood education, which is aimed at preparing teachers and getting them certified to work with toddlers on up to 8-year-olds.
That extra mile or so drops her into the Supai Village in the Grand Canyon via helicopter once a month. She also travels out to Tuba City and other remote northern Arizona communities such as Window Rock near the Arizona/New Mexico border.
"When we'd get a call from a distraught student who needed a course to graduate, Alice would open a special section for a fraction of the pay," said CCC faculty member Dave Rudakewich. "And there are other times when it's Alice to the rescue. CCC got a call from Head Start in Tuba City. They needed to get their people certified and needed our help. So out to Tuba she would drive."
For some 30 years, Baker has spent her career in the early childhood field. Now, that extra mile of effort is being formally recognized by her peers and students at CCC. Baker is being honored as the 2007 Associate Teacher of the Year.
"I have a passion for teaching and knowing that when you teach one teacher, you touch 20 children's lives and those 20 children will have something wonderful in their lives."
One of Baker's students, Rebecca Hampton, nominated her for the award.
"Alice is full of enthusiasm, energy, spark and spontaneity. She is always ready to teach and adapts her teaching to the different ways each of us learns. There are a variety of assignments to choose from so that each of us learns our own way," said Hampton.
Baker has a bachelor's degree in cultural anthropology and a master's degree in education leadership.